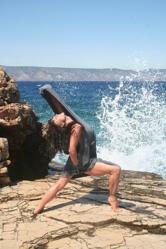 We completely love art and fashion, and especially together, so we jumped at this opportunity to be part of this great venue
Greenwich, London (PRWEB UK) 17 May 2013
The Movement in Greenwich is the site of London's most colourful temporary café and performance space and the creation of a new gateway to the Royal Borough of Greenwich. It is a public art project at The MVMNT cafe is a collaboration between the Official Poet of the Olympic Games, Lemn Sissay and artist Morag Mysercough. The cafe is closing down this weekend with a festival feel, before it's relocation, before residential development works are due to begin. As part of this event, Emma Nissim, London Fashion Designer, has organised 4 dancers from the Laban Dance School to perform a short piece utilising her hand printed Tencel wrap as a part of the arrangement. This will take place between 3 and 4:30pm. Also appearing is Polly Hallam, a Middle Eastern Drummer, who will be performing and taking part in interactive sessions with kids and kid like adults.
The Laban students are 1st years, Holly Rush and Merel Van Den Beld and 2nd years Konstantina Kyrisavva and Ruth Pugh, and they have graciously given their time up for this event, especially during these hectic student exams period.
"We completely love art and fashion, and especially together" says Emma, "so we jumped at this opportunity to be part of this great venue and it's great feel. We're looking forward to it's new location"
For details on the MVMNT cafe, please contact:
Martin: martin(at)gdca(dot)org(dot)uk
Osho: oshofrankland(at)gmail(dot)com
For further details about Emma Nissim's product range, please contact:
Rachael Nissim - Director PR
info(at)emmanissim(dot)com
07796865420
The Emma Nissim Store is located:
Shop 10a, Greenwich Market,
London, SE10 9HZ.
0208 8533139
eCommerce Web: http://www.emmanissim.com
Facebook: f acebook.com/EmmaNissimDesigns