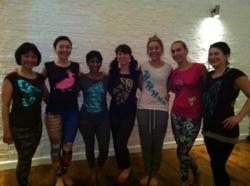 I am so happy to have discovered Emma Nissim! As I am a full time yoga teacher who travels a lot and teaches in both hot and cold climates, they suit my needs perfectly...
- Jana Appleyard
Greenwich, London (PRWEB UK) 30 June 2013
Emma Nissim is a small London based family business, run and owned by sisters, Emma and Rachael, offering high quality, hand printed, stylish garments through sustainable production and socially positive action. The high quality and craft of the garment; respect for the environment and mankind; and active lifestyles make up a list of their main core values. This involves endless research for this company. Their passion to find the perfect fabric is always at the top of their list. "It has almost become an obsession!"
The process of developing a perfect yoga top has created many angles to cover, from an eco-friendly fabric and that is ethically made, light and soft to the skin, and shaped for everyday wear and be a great all-rounder. It would be an essential base for most outfits, like a second skin, as well as being high quality, and really easy to care for. This new collection geared for yoga and easy wear, will be available in 3 colours: Mint Ice-cream; Hot Pink and Black, and is on target for end of July production and August release.
At sampling stage. "We have actually been sampling this fabric for over 2.5 years, and to our delight, it has proven to have lasted the test of time. We are really excited to get this into production, so that Emma can do what she does best when it comes to decorating garments with her prints and designs, then sharing it with our customers."
Emma Nissim's clothing range is ideal for those who like to be active. They are light and breathable, and she has offered a range of prints for people to choose from that make them happy.
"We have found that most of our customers love our fabrics, as we do. People just want to be more comfortable these days, but if we can easily look great and express our personality at the same time, then that is an absolute bonus!"
Yoga teacher Jana Appleyard has been one of Emma Nissim's trusted best testers for comfort, breathability, and active wear. Many of her own clients have also now made Emma's clothes their own, after testing how they perform during a hard session of yoga. Jana's own testimonial:
"I am so happy to have discovered Emma Nissim! As I am a full time yoga teacher who travels a lot and teaches in both hot and cold climates, they suit my needs perfectly…
"They don't take up too much room in my case, they can be layered up without looking bulky, easy to wash and don't crease, and of course they look stylish are comfortable to move in and good for the environment! I can wear them for class or for casual wear so totally versatile…
"I want to rave about the wrap… how I love wearing it after class to feel super effortlessly glam and get some air to my legs after sweating in my leggings!"
For further details about Emma Nissim's product range, please contact:
Rachael Nissim - Director PR
info(at)emmanissim(dot)com
07796865420
The Emma Nissim Store is located:
Shop 10a, Greenwich Market,
London, SE10 9HZ, United Kingdom
+44 208 853 3139
eCommerce Web: http://www.emmanissim.com
Facebook: http://www.facebook.com/EmmaNissimDesigns
Twitter: @emmanissim
LinkedIn: http://www.linkedin.com/company/emma-nissim-designs