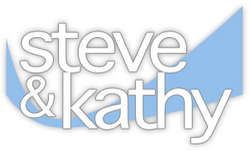 Saturday Night Live style of humor.
Kansas City, MO (PRWEB) September 8, 2008
The Steve & Kathy Show, a Christian comedy TV show, reeled in four nominations in the recently announced 2008 Emmy® award nominations from the Mid-America Chapter of the National Academy of Television Arts and Sciences. With nearly 750 entries in 85 categories, Steve Gray, creator and executive producer of this hilarious show that uses humor to expose what Gray calls "my absurd religion" received nominations in two categories: Religion and the highly competitive Human Interest category.
Gray, a first-time participant in the Emmy® awards, has distinguished himself early in his short career in television, capturing 29 Telly Awards in the first season and raking in 19 additional awards the following year. The Steve & Kathy Show begins it's third season this month, and four Emmy® nominations place Gray in another league in the television industry.
"This is great news for Christian programming," says Gray. "We have created a show that pushes the boundaries of traditional Christian television while offering people a religion that works. I am excited for everything this means."
Production of this Kansas City-based TV show is a community effort involving over 100 cast and crew, many of whom are volunteers. The new season of The Steve & Kathy Show begins September 14th with a new cast pooled from Kansas City's best acting talent and a new format featuring original skits with a "Saturday Night Live style of humor."
2008 Emmy® award nominations for The Steve & Kathy Show include three humorous skits entered in the category of Religion: 'Real Preachers of Genius: Mega Church Pastor,' modeled after the Super Bowl commercial of a similar name; 'Cheaters: Church Edition' and 'Church of the Week: Smoker's Church.' Nominated in the category of Human Interest - Program Story/Feature is 'Inspiring Story - Autumn D.' the personal account of a young woman devastated by a dark secret that left her suicidal, but who found hope through a powerful encounter with God.
October 4th marks the 2008 Gala Emmy® Award Presentation in St. Louis, MO. More information on the 2008 Emmy® award nominations.
About NATAS Mid-America Chapter:
The National Academy of Television Arts and Sciences is dedicated to the advancement of the arts and sciences of television and the promotion of creative leadership for artistic, educational and technical achievements within the television industry. It recognizes excellence in television with the coveted Emmy® Award.
About The Steve and Kathy Show:
The Steve and Kathy Show is a pioneering approach to bring America fresh Christian television programming while offering a "religion that works." Hosted by creator and executive producer Steve Gray and co-host Kathy Gray, this award winning TV show features a late-night format with hilarious original skits, jazz music, and real-life stories of dramatic encounters with God. Gray's innovative approach to reach those disheartened by "absurd religion" is finding a responsive audience with his tongue-in-cheek satire and wit.
The Steve & Kathy Show currently airs in Kansas City on KCWE Channel 29 at 8:30 a.m. Sunday mornings, as well as on 12 stations in 16 major cities across the nation and on Sky Angel 2 and Direct TV Channel 376. More information is available at http://www.steveandkathygray.com/mediarelations.php.
# # #