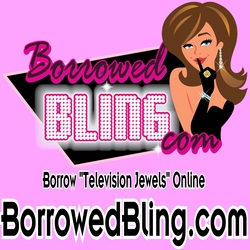 It is not as easy as the public might think for shows or celebs to borrow valuable diamond jewels
Tarzana, CA (PRWEB) September 18, 2008

Los Angeles, CA (PRWEB) September 18, 2008 -- Carol Wexler, founder of Borrowed Bling, knows one secret that some of Hollywood's elite wishes she'd keep all to herself! But with her products being seen on so many top T.V. shows and in dozens of national magazines, it is hard to keep the secret any longer.
So what is this guarded information that has been kept "hush hush" for so long? It's the fact that many celebrities don't just flaunt their jewelry, they also fake it! That's right ... the next time you see one of your favorite Hollywood fashionistas on a television show or at an award show, don't always assume that their bling is the real thing. The increasing media attention given to the BorrowedBling.com website, which was launched several years ago, has started to make it very difficult to conceal the fact that many of those red carpet jewels are not as hard to come by as they may seem.
"It is not as easy as the public might think for shows or celebs to borrow valuable diamond jewels," Wexler reveals.
It costs a lot of money to insure these genuine designer jewels, and having to hire the security needed to guard these precious stones doesn't come cheaply either. Therefore, many well-known jewelers are no longer handing out this privilege as easily, or as often, as they may have done previously. Sure, a Hollywood A-lister who might be nominated for an award or presenting one may have dozens of designers all offering to loan them glamorous jewels, but what about the other celebrity attendees? Quite often even a celebrity chooses to rent man made diamonds because these gems have the same look as naturally grown diamonds, but are a small fraction of the cost and can be switched out for new items as often as they like. In fact, wearing these less expensive versions of the real deal has become quite a common practice in Hollywood. As styles and trends keep changing faster and faster, not many want to keep investing in expensive diamond items over and over again, which they'll probably just wear for one season and then switch out for the next hot new look anyway. This is why the man-made diamond jewelry line found at BorrowedBling.com has really caught on as a savvy choice, even amongst the rich and famous, who can afford to splurge.
Of course no one wants to openly admit that their bling is not the real thing and Wexler would never break confidentiality by naming names. However, she does reveal that she has supplied her items to many television programs and adorned celebrities or models from T.V. shows such as One Life to Live, the Young and the Restless, the Janice Dickenson Modeling Agency reality show, Dynasty, Desperate Housewives, Deal or No Deal, Til Death, the Tyra Banks show, and many others.
So while you find yourself drooling over those blinding jewels seen on the red carpet at the Emmy Awards, or any show for that matter, instead of wishing you too could have something that decadent and expensive, try logging onto BorrowedBling.com to get your own. This website, which has gathered national attention, enables the public to gain access to one of the best perks in Hollywood: borrowing bling! At BorrowedBling.com not only can you buy their dazzling jewels, but you are also allowed to rent them. Where else are you encouraged to wear, and then return, items? Now getting that "red carpet celebrity look" is finally accessible to the rest of us. With over 500 items to choose from and prices that are very affordable, even in these challenging economic times, everyone is sure to find something that makes their heart skip a beat. There are even dozens of jewelry choices for men as well. You may also see items on the site that you have already seen worn by your favorite celebrities, and these man-made dazzlers are guaranteed to pass for the real thing, even to the most trained eye.
So who will be flaunting the real stuff on the red carpet and who will be faking it? We'll let you guess, since we'll never tell!
CONTACT INFORMATION:
Borrowed Bling
Visit Site: http://www.BorrowedBling.com
(877) 672-7978 toll free
# # #