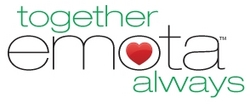 Imagine that even though you and your loved ones are living separate, independent lives
San Francisco, CA (PRWEB) October 7, 2009
Health 2.0 Conference - emota.net, inc. today announced that it has received a grant from the National Science Foundation to pilot a new category of Health 2.0 product, Emotional Networking which it has been developing in stealth mode. Research has shown that even a small amount of perceived emotional support significantly reduces health risks and overall healthcare cost. With the funding from the National Science Foundation, emota.net is pioneering the new field of Emotional Networking, which complements existing telehealth and social health solutions to address not just clinical health, but the emotional and social aspects of aging.
Using the latest science in Ambient Intelligence and Awareness Systems, emota.net is re-imagining how Internet communication technologies can help clinicians, professional caregivers and families stay in touch, aware and supportive of their elderly patients. "Imagine that even though you and your loved ones are living separate, independent lives," said Paul To, CEO & Founder of emota.net inc., "you can still maintain closeness and mutual awareness, as if you were living together. Though you may be far away, your loved ones will know and feel that you are always nearby and available. Sharing life's moments and feelings becomes effortless and non-intrusive. And you always know just the right time to check up on your loved one, or lend a helping hand."
Aiming to support innovation in the rapidly emerging field of Health 2.0, emota.net inc. is building a open collaborative platform and will expose much of the platform's capabilities via it's emotaNudge™ web service interfaces. These interfaces expose core emota.net functionalities such as its Always-on Real-time Awareness Engine and Context Engine technologies to 3rd party applications and will allow rapid integration with Patient Care Management, PHR applications, Remote Patient Monitoring, and Telehealth applications.
Paul To, emota.net's CEO & Founder will be presenting at the "Tools for Healthy Aging" session of the Health 2.0 Conference, at 3:30pm, October 7. emota.net's products will also be displayed at Health 2.0's Demo Pit.
The company is working with a major health organization to pilot its technologies in Q1 of 2010 and expects to release its first product in Q2 of 2010.
About emota.net inc.
emota.net inc. is a technology startup based in Menlo Park, CA which focuses on development of software and services that assist clinicians, professional caregivers and families care for elderly patients.
For more information, visit: emota.net's website at http://www.emota.net.
###