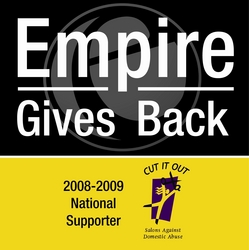 Philadelphia, PA (PRWEB) January 7, 2009
Each of Empire Education Group's 87 beauty schools nationwide has adopted a local domestic violence shelter through the Empire Gives Back program. Empire has worked with the U.S. Attorney's Office to launch a comprehensive plan, which includes enhanced student training, public awareness and education efforts, fundraising, victim support, public service announcements, and an online campaign.
"For the past four years, each Empire Beauty School has held a National Day of Beauty. On this day 100 percent of the funds raised from services and sales in Empire's Philadelphia student salons will be donated to Women Against Abuse," said Franklin K. Schoeneman, chairman and CEO of Empire Education Group.
Women Against Abuse is a leading advocate and direct service provider for victims of domestic violence, operating the only emergency shelter in Philadelphia for abused women and their children. Women Against Abuse serves more than 10,000 individuals each year through emergency residential services, legal aid, hotline counseling, education and advocacy.
Empire students, educators and staff members raised money by selling haircuts and other salon services, purple ribbon pins and donation circles. Clients of Women Against Abuse will be able to receive complimentary haircut services at Empire Beauty Schools. Additionally these clients will be eligible to receive educational endowments to attend any Empire Beauty School in the country. Quantitatively this educational aid could reach up to $500,000 dollars per year.
Through the National Day of Beauty and multi-platform campaign, Empire Gives Back, Empire Beauty Schools across the country have not just adopted shelters; they have supported the initiatives of the anti-domestic violence organization CUT IT OUT by implementing its educational program in all 87 Empire Beauty Schools. This implementation greatly raises awareness by educating more than 11,000 future beauty professionals per year about recognizing signs of domestic abuse and safely referring clients in need to necessary resources. The student stylists are raising awareness and funds for a cause that they are enthusiastic about and have even personally benefitted from.For more information visit empiregivesback.com
Empire Education Group
Empire Education Group provides quality in cosmetology education, offering students many of the finest training tools and facilities. For the past 70 years, Empire has grown to become one of the largest providers of beauty and cosmetology education in North America. Empire's 87 accredited cosmetology schools in 18 states use exclusive Certified Learning in Cosmetology (CLiC) education curriculum; the company prepares students for successful careers in cosmetology (hair care, skin care, and nail care).
Schools accredited under Empire Education Group include; Empire Beauty Schools, Artistic Beauty Colleges, Blaine, Concorde Academy, European Academy, The Hair Design School, and Natural Motion Institute. For more information and a complete listing of all schools under the Empire Education Group name, visit: http://www.empire.edu.
###