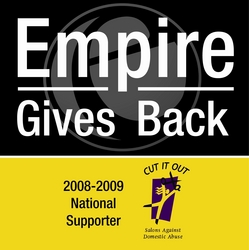 But we are not stopping at education. We are dedicated to truly making an impact by promoting public awareness of an issue which is so often hidden from view.
Avondale, AZ (PRWEB) January 13, 2009
Empire Education Group, one of the largest systems of cosmetology schools in the country, has launched a community outreach campaign called "Empire Gives Back" to support the fight against domestic violence, which will benefit the greater Phoenix area. Empire Gives Back is a comprehensive program, which includes enhanced student training, public awareness and education efforts, fundraising, victim support, public service announcements, and an online campaign.
The cosmetology education company has begun a statewide roll out of the "Empire Gives Back" program in all nine of its Arizona Empire Beauty Schools. Empire set out to support this effort by educating its own stylists-in-training to recognize signs of domestic abuse and safely refer those clients to people and resources that can help them in conjunction with the national CUT IT OUT program.
CUT IT OUT is a successful national domestic violence prevention program that was introduced in Arizona by Attorney General Terry Goddard in 2005. CUT IT OUT training sessions will be taught, in each of Empire's nine cosmetology schools in Arizona, by representatives from the Arizona Coalition Against Domestic Violence. "CUT IT OUT provides critically important training for stylists to assist their clients who struggle with domestic violence," Goddard said. "I appreciate the great partnership of the Arizona Coalition Against Domestic Violence and now Empire Education Group in this important work to wipe out domestic violence in Arizona."
Empire Education Group worked to adopt local domestic violence support organizations near each of Empire's cosmetology schools. Empire provided support with local student fundraising events as well as providing no-charge services to women who are in these shelters. Eighty-seven Empire schools participated in the Empire Education Group National Day of Beauty, on October 11th. All monies generated from services and sales in three Empire Beauty School student salons on that day will be donated Chrysalis of Phoenix. In addition to complimentary services, clients seeking support from each "Adopted" domestic violence support organization will also become eligible to receive financial assistance to attend any Empire Beauty School in the country. This educational assistance program could create opportunities worth up to half-million dollars per year.
"Empire has a strong tradition of commitment to supporting the communities in which our schools are located and we are delighted to bring that part of our culture to Arizona," said Franklin K. Schoeneman, CEO and Chairman of Empire Education Group. "But we are not stopping at education. We are dedicated to truly making an impact by promoting public awareness of an issue which is so often hidden from view."
The website http://www.empiregivesback.com has been created to offer information about domestic violence, promote awareness about domestic violence and to provide helpful information to those in need to resources and organizations that can provide help.
Empire Education Group:
Empire Education Group provides quality cosmetology education, offering students the opportunity to improve their lives. For over 75 years, Empire has grown to become one of the largest providers of beauty and cosmetology education in North America. Empire's 87 accredited cosmetology schools in 18 states use exclusive Certified Learning in Cosmetology (CLiC) education curriculum; the company prepares students for successful careers in cosmetology (hair care, skin care, and nail care.)
Schools accredited under Empire Education Group include; Empire Beauty Schools, Artistic Beauty Colleges, Blaine, Concorde Academy, European Academy, The Hair Design School, and Natural Motion Institute. For more information and a complete listing of all schools under the Empire Education Group name, visit: http://www.empire.edu.
###