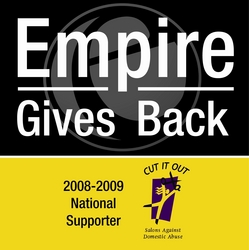 "Empire Gives Back is an excellent example of a business stepping up to the plate to help combat the tragedy of domestic violence," Attorney General Goddard stated.
Phoenix, AZ (PRWEB) February 2, 2010
Empire Education Group, one of the largest providers of cosmetology education in the country, is celebrating the one year anniversary of "Empire Gives Back", a community outreach campaign and educational program designed to support victims of domestic violence, which will benefit the greater Phoenix area. Attorney General Terry Goddard, Empire Education Group Chairman and CEO Franklin K. Schoeneman and the Arizona Coalition Against Domestic Violence join together celebrate "Empire Gives Back" and educate students through a CUT IT OUT training on February 2nd.
"Empire Gives Back is an excellent example of a business stepping up to the plate to help combat the tragedy of domestic violence," Attorney General Goddard stated. "Domestic violence experts agree that one of the biggest challenges is connecting with victims, who are often afraid to seek out help or do not know where to turn. Cosmetologists have shown they can provide that critical link. CUT IT OUT gives us a new way to reach thousands of victims."
"Empire Gives Back" in conjunction with the national CUT IT OUT program educates its stylists-in-training to identify signs of domestic abuse and safely refer clients to resources and organizations that can help them.
Empire Beauty Schools will also be announcing a new initiative; the Empire Gives Back, Cosmetology Education Endowment Program, which will provide funding to domestic abuse survivors enrolled in Empire Beauty Schools across the country. The Endowment Program was developed as part of Empire's commitment to providing opportunities for people to improve their lives.
Through fundraising and charitable campaigns this year Empire Beauty School students and co-workers have raised over $140,000 for domestic violence shelters across the country. More than $14,000 will be donated to Arizona organizations that support victims of domestic abuse.
"Empire's reason to celebrate today is two-fold. First we are incredibly proud of how our students and co-workers have embraced the Empire Gives Back Program. Their efforts have truly made a difference for victims of domestic abuse across the country," said Franklin K. Schoeneman, CEO and Chairman of Empire Education Group. "Secondly, we are celebrating to commemorate the path to opening Empire's one-hundredth beauty school with a program called, 100 Days of Empire. By the end of this year, Empire Gives Back will be in over 100 locations. We hope to continue making a positive impact in the lives of our students as well as those in our communities."
Explore the website http://www.empiregivesback.com for information about domestic violence awareness, and information on resources and organization that can provide help.
Empire Education Group
With 95 campuses in 20 states, Empire Education Group has provided quality in cosmetology education, offering students many of the finest training tools and facilities for more than 75 years. Empire is one of the largest providers of beauty and cosmetology education in North America and educates more than 20,000 students annually. All locations use exclusive Certified Learning in Cosmetology (CLiC) education curriculum. Schools accredited under Empire Education Group include Empire Beauty Schools, Concorde Academy, European Academy, The Hair Design School and Natural Motion Institute. For more information and a complete listing of all schools, visit http://www.empire.edu.
# # #