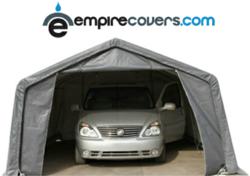 Jenkintown, PA (PRWEB) July 09, 2013
The Philadelphia based e-commerce company, EmpireCovers, has added carports to its vehicle protection product line.
EmpireCovers' outdoor carports provide reliable vehicle protection and convenient storage, without the hassle and expense of building a permanent structure. The multifunctional, easy-to-assemble carports come in a variety of sizes, that can comfortably store cars, trucks, boats, RVs, motorcycles, jet skis, bicycles, scooters and more.
The carport's top and sidewall are made from polyethylene fabric that is waterproof and UV treated. The steel frame is rust resistant, to ensure longevity and weather resistance. All of Empire's carports are tested to provide superior tensile strength.
"EmpireCovers has grown to become a leader in automotive care and takes pride in its easy-to-use, high quality products," said Robert Brous, Business Development Specialist at EmpireCovers. "Our carports offer a simple way to create a semi-permanent, protective structure on your property."
About EmpireCovers
Since 2004, EmpireCovers has specialized in manufacturing and selling high quality covers for cars, trucks, boats and other vehicles. The company is constantly broadening its areas of expertise while creating products to ensure the best vehicle protection on the market. Currently, EmpireCovers sells over 600 state-of-the-art protective covers. EmpireCovers is able to cover 99% of all vehicles on the road thanks to their semi-custom fit. For online shopping, resources or to learn more, visit EmpireCovers.com.