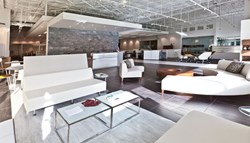 We are thrilled to be included on these lists alongside some of South Florida's great companies.
New York, NY (PRWEB) August 01, 2013
Empire Office, Inc. (http://www.empireoffice.com), a leading provider of contract furniture solutions, announced that it has been named #22 on the 'Top 100 Private Companies' list as published by the South Florida Business Journal. The list, published annually, ranks companies in the region based on 2012 annual revenue.
Empire Office is the only commercial furniture dealer to secure a spot in the top 25 and one of 30 newcomers making the list for the first time this year.
In May, the South Florida Business Journal also released the 'Fast 50,' a listing of the region's fastest-growing companies, on which Empire Office ranked #46. The list, comprised of companies from various industries in South Florida, compares the percentage of growth in annual revenue from 2009 to 2012.
"We are thrilled to be included on these lists alongside some of South Florida's great companies," said Peter Gaslow, President & CEO. "It's an exciting time for Empire in the Florida marketplace—we're seeing a steady pickup in business statewide as many companies are beginning to plan for their future workplaces to attract, retain and engage next-generation workers in an effort to stay competitive."
New York-headquartered Empire Office has three offices in Florida with working showrooms in Hollywood, Orlando and Tampa.
In September 2012, Empire Office announced the launch of their new branding platform and the relocation of their Miramar showroom to Hollywood. The company is committed to continuing to strategically grow the Empire Office brand, having formed an alliance with K2 Space in London earlier this year.
About Empire Office, Inc.
Empire Office is the largest commercial furniture dealer in the world, with over 65 years of experience and more than 350 full-time employees across the country. We are the preeminent Steelcase dealer in the United States and support a list of more than 300 manufacturers. But we're more than just a full-service office furniture dealer. We partner with business leaders, architects and designers to deliver comprehensive, creative, and cost-effective solutions to real business challenges. Our goal is to deliver the perfect office furniture experience from the initial set of drawings to the final installation and punchlist.
For more information:
Richard Gulardo, COO, telephone: +1 212 607 5500
Email: publicrelations(at)empireoffice(dot)com or visit us online at http://www.empireoffice.com