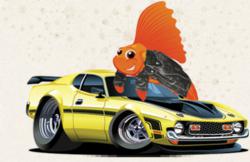 Philadelphia, PA (PRWEB) August 28, 2012
RoadFish.com, men's lifestyle and finance magazine, today released their statement regarding employers running less credit checks on potential new employees than they were just two years ago, and RoadFish.com's unique take on this may help motivate consumers to uphold a good score despite the trend of employers veering away from using them as part of the hiring process.
Marilyn Kennedy Melia of Philly.com reported that according to the Society for Human Resource Management, the percentage of firms that are running credit reports on their potential new hires has lessened from a couple of years ago. According to the article, 53% of firms reportedly do no utilize a credit check as part of the hiring process as opposed to 40% that did not use them two years ago. The Society for Human Resource Management vice president for government affairs, Mike Aitken, is quoted as saying, "Employers are paying additional attention to the way credit reports are used."
RoadFish.com believes that this lessening of the use of credit reports in the hiring process could be advantageous for potential new hires, and urges them to use this as an opportunity. RoadFish.com's Senior staff writer is quoted as saying, "I know a lot of wonderful people and quality workers who have gotten into financial trouble somewhere along the way, so in a sense their credit histories do not necessarily reflect who they are as hard-working individuals. The fact that firms are moving away from using credit reports as a tool by which to assess a potential new employee could be quite advantageous for those whose credit reports do not accurately reflect their work ability. My advice for these individuals is to take the new employment and use it to actively repair their credit. With the new paycheck, create a budget and stick to it to chip away at debt and slowly but slowly build up that credit score."
The above-mentioned Philly.com article states it has been since the Great Recession began that state lawmakers have been receiving complaints from job applicants who believe that their poor credit history has kept them from securing employment. As a result of the many complaints, there are currently eight states that have laws that limit exactly how a job applicant's "bill-paying habits" are allowed to be considered during the application process. Besides the state laws in place, there are also federal laws that disallow a candidate's credit as being the deterring factor in hiring that individual. These laws are one of the main reasons that firms are so careful when reviewing a potential new hire's credit history. For instance, law states that the aspiring new hire's credit history has to hold some relativity to the responsibilities of the job for which they are applying.
RoadFish.com urges consumers to maintain a good credit score even if employers don't plan to check it. RoadFish.com's senior staff writer is quoted as saying, "There are many reasons to actively build up one's credit score, employer's checks of course being one of them. But just because many firms aren't doing them any longer is no reason to get lazy and let that score deteriorate. People should be taking this new trend as a shot at getting a position with an employer that they really deserve, regardless of financial history. Once the employment is secured, the steady paychecks should be used for things like paying off debt and being set aside into an emergency fund. Job hopefuls should be thinking of this inclination away from credit checks as something of a second chance, and using it to their utmost advantage."
Melia states that the Society of Human Resource Management reports that the reason the majority of firms utilize credit checks in new employees is theft prevention, however by law applicants are required to be informed if and when a potential new employer chooses to view their credit report. And fortunately for consumers, about 80% of firms reported to having hired an employee despite a negative mark on their credit report.
About RoadFish.com
RoadFish.com is a widely-read men's online magazine whose readers tend to be men in their 30's and 40's. Article topics include travel, lifestyle, finance, and tips on dating for divorced men. Most of RoadFish.com's readers have already gained a moderate level of success in their lives and have their sights set on bigger goals. RoadFish.com men's lifestyle and finance magazine includes articles about men's fashion, luxury items, dating advice, hot chicks, and financial tips for parents and college kids. RoadFish.com is owned and operated by Purpose Inc.