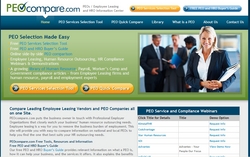 Our goal is to provide small businesses and entrepreneurs with key information to aid in effectively running their business, and benefit outsourcing is one of those things."
Tampa, FL (PRWEB) March 16, 2010
Introducing PEOcompare.com, an unbiased PEO comparison and selection website dedicated to assisting small business owners in finding a PEO with services that match their needs. This is the first site that provides a truly unbiased method for small business owners to find, match and compare professional employer organizations.
Truly unique to PEOcompare.com is a proprietary comparison and ranking technology deemed the PEO Services Selection Tool. This comprehensive filter tool allows the business owner to be in control, specifying and ranking those issues that are important to him, then matching him to only the PEOs that offer those particular services. Unbiased, easy to use, and free, the Selection Tool shows immediate results upon which the client can then send a request for information to the desired PEOs of interest.
Designed with the small business owner in mind, PEOcompare.com is truly a one-stop shop for comparing professional employer organizations from anywhere in the United States. Each PEO can also be reviewed quickly and easily with an additional tool labeled PEO Quick Compare, designed to quickly highlight the most important issues, giving an instant generalization of what services are available.
In addition, the new site will also be an information and resource center for the small business owner looking to grow his business. Demos, webinars, articles, press releases, success stories and case studies will all have their place on the site. Visitors to PEOcompare.com should check back often, as their library will continue to grow.
"We built this site because we truly believe in the professional employer organization industry and the benefits that it provides for the small business. Our goal is to provide small businesses and entrepreneurs with key information to aid in effectively running their business, and benefit outsourcing is one of those things," stated Carolyn Stoll, Director of Marketing and Lead Generation.
PEOcompare.com's launching PEO partners include Trinit, SOI, CoAdvantage, Kimstaff HR, Infiniyi HR, Advantec, and Star Human Resources. To contact PEOcompare.com, call (941) 803-2508 or email to info @PEOcompare.com.
For more information concerning HR information systems and related industries, go to CompareHRIS.com, PEOcompare's partner site.
###