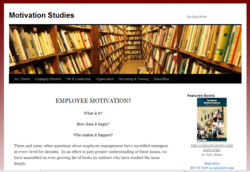 Those who view employees as a commodity are doomed to failure.
(PRWEB) June 26, 2013
The employee motivator expert, Gary Brose, has just announced the launch of his new website: motivationstudies.org. The one stop resource center for employee motivation tips and business management information includes a plethora of information with resources to several different books on the topic.
The website hosts a variety of different categories related to business management and the best way to be an effective business leader in order to motivate and manage employees. The different categories include topics such as:

Engaging Workers
HR & Leadership
Organization
Recruiting & Training
Sales & more
Brose is small business consultant, dedicated to helping people find the best ways to problem-solve specific to their business needs. He says the biggest part of what he does and the problems he's seen during his thirty years of as a business leader stems from the lack of not knowing how to manage and motivate employees.
This new site encompasses the fundamentals with several books from a diverse range of authors, including Brose himself.
"Nothing great in business can ever be achieved without working through and with your workforce," says Brose. "Those who view employees as a commodity are doomed to failure."
"The Ultimate Motivated Employee" is available on Amazon today or via Brose's website at http://www.smallbizsherpa.com.
About Gary Brose:
Gary Brose is dedicated to identifying the best techniques to motivate and engage employees. Having spent three decades of trial and error in the real world, and having owned over a dozen companies within that time, Gary has the tools and skills for success when it comes to encouraging and inspiring a team of employees in the right way.
To find out more about Gary, please visit smallbizsherpa.com, like him on Facebook, or follow him on Twitter (@bizsherpa).