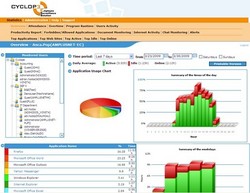 (PRWEB) April 1, 2009
Targu-Mures, Romania There are significant cultural differences over the world's regions and language barriers lead to productivity loses. This is why it is very important for every person that uses software to use it at its maximum capacity. Having a software in your native language or a language you are comfortable with, will definitely reduce the time used to accommodate with the application and the effective usage time.
In order to break these barriers, Cyclope-Series has teamed up with companies around the world to provide useful information and reports regarding the usage of company's resources. In this respect, the website dedicated to Cyclope has been translated in Croatian, Czech, Polish, Romanian and Russian. You can visit our website in order to reach the language you desire.
The software has also been translated, with the aid of our partners in more languages: Croatian, Czech, Hungarian, Italian, Polish, Spanish, Romanian and Russian. For each language of the software, there has been created a demo version aimed to help local users better understand the applications benefits and usage. Being able to access all the statistics provided by Cyclope, without installing the software, users will convince themselves on the advantages the employee productivity tool has to offer. The English version of the demo is available on http://demo.cyclope-series.com. If you want to get to the demo version in other language please follow the corresponding website.
As the globalization has just begun for Cyclope, we will keep you in touch with the progresses we make. Currently Latvian and Lithuanian versions are under development and we expect the French and Deutsch version to come soon also.
Furthermore, Cyclope-Series is glad to announce a special offer for its state of art business productivity solution Cyclope Employee Surveillance Solution. During April 2009, a 15% discount will be provided for all the evaluators interested in having this solution on their organizations. You can find more details about our promotion on our website.
About Cyclope-Series:
Amplusnet-Group is a privately owned group of companies operating in the field of development and marketing of software solution. Cyclope-Series points at providing state of the art monitoring and filtering solutions which provide IT specialists and managers the necessary information in evaluating employee productivity and the use of IT infrastructure in their company. Cyclope-Series Solutions support a high employee control, employee productivity and provides means of identify areas of abuse or malpractice.
###