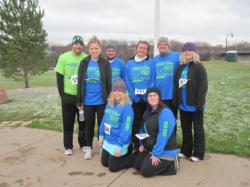 Big Dotters work hard and play hard, so a little competition among us is enough to get everyone going.
~ Scott Yukel, CEO
Menomonie, WI (PRWEB) January 05, 2012
Big Dot of Happiness, LLC, an industry leader in providing hard-to-find birthday supplies and birthday party decorations, energized its employees by entering the 2011-2012 Motivation to Move. As part of the 8-month activity challenge hosted by the Mayo Clinic Health System – Red Cedar, each employee received a pedometer and access to the Walker Tracker web site, as well as inclusion in competitions and challenges.
"Big Dotters work hard and play hard, so a little competition among us is enough to get everyone going. It has been fun to see everyone checking their pedometers and sneaking in a workout just so they can be a few steps ahead of another Big Dotter," says Scott Yukel, CEO of all Big Dot Shops. "We have a variety of duties at Big Dot and there has definitely been some fierce competition between the employees that have desk-oriented jobs versus the employees in the warehouse who are moving a lot each day."
Each Big Dotter has a goal of 10,000 total steps per day – From printing, packing and shipping personalized party supplies to designing unique and original event decorations, those who complete the challenge will have followed four virtual tours though various locations throughout the world for individual totals of 1.8 million steps.
Employees have taken advantage of the numerous events Motivation to Move offers, including participation in cooking classes and hiking a corn maze, all to help them gain the steps they need to complete the challenges. "Big Dot is a family and we want everyone to be happy and healthy so it was important to initiate a team event everyone can participate in that also inspires an active lifestyle," states Yukel. The wellness program will also ensure each Big Dotter starts off the New Year will a little help in achieving their resolutions.
Big Dot of Happiness, LLC,
About Big Dot of Happiness, LLC
Big Dot of Happiness, LLC, is an event party company and the originator of various games, invitations and themed party supply products called "Big Dot Originals." With personalized invitations, impressive party favors and unique party decorations, Big Dot of Happiness, LLC, makes everyday parties into extraordinary events. "We create remarkable smiles by embracing a remarkable culture."
Find Big Dot of Happiness on Facebook for inspiration and exclusive deals just for fans.
Contact:
PR Coordinator
Big Dot of Happiness, LLC
1.800.274.4282
http://www.bigdotofhappiness.com
###