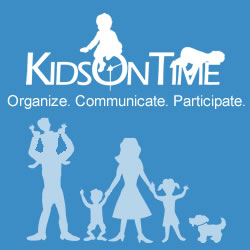 Stress reduction, brand awareness, cost saving and employee productivity all from one portal, who can argue with that.
Portland Maine (PRWEB) January 16, 2013
Kids On Time Inc. excitedly announced today the launch of the co-branded web portal for employee benefit programs.
Kids On Time co-branded portal allows companies to offer a suite of co-parenting tools to their employees. Co-parenting tools are web-based applications for co-parents and blended families. Using the latest cloud computing technology, KidsOnTime.com aids in conflict resolution, directing each co-parent to focus on the issue or situation at hand. It is a simple to use powerful and comprehensive communications tool with undeniable value.
With our fragile economy, cost savings and employee retention is on the mind of businesses globally. The timing of the employee portal couldn't be more critical.
The co-branded co-parenting tools are the first of its kind. Joe Sleeman, the companies Software Architect and CEO explains the reason for the co-branding is simple really."In essence, it keeps the client's image and information in the forefront for their employees as a 'real' benefit." Sleeman goes on to explain that "offering co-parenting software is a natural addition to company benefits packages and to employee assistance programs." Countless studies have shown that employees going thru divorce have a higher instance of absenteeism (due to court appointments and additional sick days often caused by stress and depression.) Gallup studies show the impact of relationship-related stress is estimated to cost U.S. Businesses more than $300 billion a year in absenteeism, turnover, diminished productivity and medical, legal and insurance costs. Employees with family stress also are known to be less productive when at work due to an increase in distractedness and a decrease in their ability to focus. With the number of divorces in the US affecting so many families, employers, now more than ever, need to grasp at the chance to offer assistance, which will naturally increase employee productivity and as a result cost the employer less money.
The KidsOnTime.com domain can be custom designed with your company's colors and logo and will be the entry point for employees to sign-up and login to the co-parenting application. Co-parenting tools are proven to reduce stress and make difficult situations more manageable. Reducing employee stress increases employee productivity and employee retention. According to Suzy Miller, Kids On Time can be a powerful and accessible tool for employees to reduce some of the stress associated with divorce. Suzy is the creator of 'Divorce in a Box' - a travel guide to stay-out-of-court divorce. "I believe that online resources like Kids On Time can help reduce the conflict between parents experiencing family break up in a very practical, useful way."
"We are proud that KidsOnTime.com is the pioneer in creating co-branded co-parenting software portals" says Joe Sleeman, Sleeman further boast: "With the state of the economy, it's great for employers to be able to offer an invaluable benefit to their employees without any out of pocket costs for them. Stress reduction, brand awareness, cost saving and employee productivity all from one portal, who can argue with that."
About Kids On Time, Inc.
Kids On Time is a pioneer in the co-parenting software market. The company's flagship product, is a co-parenting application for divorced or separated couples and blended families. Kids On Time applications are used by couples and professionals working with divorced parents. Kids On Time connects co-parenting couples through the use of technology to help them communicate better and more effectively for the purpose of raising their children. Kids on time is the undisputed leader providing affordable, user-friendly, technologically advanced co-parenting tools. Keeping in front of the technological trends allows Kids On Time to pioneer and create new niches in the market. Kids On Time is headquartered in Portland ME with an office in Phoenix, AZ. For more information visit http://www.kidsontime.com