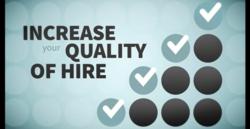 50% of organizations are dissatisfied with new sales
representatives they hire.
Easton,MA (PRWEB) February 12, 2013
The mission of Bluebell Consulting Solution is to provide employee assessments, talent management, and career development solutions to help organizations select the right people and develop them to their full potential.
The Profiles Sales Assessment™ (PSA) measures how well a person fits specific sales jobs in the organization. It is used primarily for selecting, on-boarding and managing sales people and account managers.
The "job modeling" feature of the PSA is unique and can be customized by company, sales position, department, manager, geography, or any combination of these factors. This enables to evaluate an individual relative to the qualities required to perform successfully in a specific sales job in the organization. It also predicts on-the-job performance in seven critical sales behaviors: prospecting, call reluctance, closing the sale, self-starting, teamwork, building and maintaining relationships, and compensation preference.
Why Assess Sales People?
Many sales people are competitive and persuasive. Given the opportunity to land a new job or to be promoted, candidates may tell what recruiters want to hear instead of the
truth. Additionally, so much of the candidate success depends on the specific type of sales job and the organization in which the candidate would work. Success seldom transfers automatically.
The cost of failure in a sales job is very high considering the hiring and ramp-up costs, low sales productivity, and disruption to existing customers.
The PSA gives an objective inside look at the behaviors and motives of the sales people and sales managers to help make better decisions.
How does the Profiles Sales Assessment work?
Prior to assessing candidates, Bluebell Consulting experts help develop peak performance models for the jobs using questions to direct recruiters in comparing job candidates. Once established, companies HR deliver the PSA to the candidates over the Internet—hiring managers or an HR administrator simply forwards a link. The assessment does not need to be monitored, so the candidate can take it from any computer with Internet access. The system instantly scores the assessment and informs the hiring managers where they can access the results. The hiring manager can use the results as a screening tool or to assist them in the interviewing, selection, and onboarding process.
What's the next step?
Please contact Bluebell Consulting Solutions today and take advantage of your complimentary assessment, FREE consultation, and 20% discount.
To learn moe about all our employee assessment solutions click here