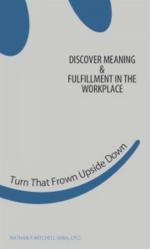 "It's in that moment when we realize it's not about me, there's a bigger purpose at work here, and it's my responsibility to fulfill it, that a great leader is born!" - Nathan R Mitchell (MBA, CPC)
Tulsa, OK (PRWEB) August 01, 2012
Business consultant, leadership development coach, and author Nathan R Mitchell, is giving members of Generation X the opportunity to share their personal story in an upcoming book titled "Turn That Frown Upside Down: Discover Meaning and Fulfillment in the Workplace."
"I'm extremely excited about having the opportunity to introduce my readers to a number of business owners, career professionals, entrepreneurs, leaders, and executives who have battled through the tough times of transition and struggles in the workplace to ultimately find purpose, meaning, and fulfillment in what they do," says Mitchell.
Mitchell, who has also created a proprietary, leadership development process that helps men and women find purpose in the work they are already doing, hopes the book will inspire readers to learn as much as they possibly can in their current roles.
"The average worker entering the workforce today will have fourteen to sixteen different jobs over the course of their working career," says Mitchell. "Are there that many bad jobs out there, or is it a much deeper issue? I've discovered it's the latter!"
Through his research and his own personal experience in the corporate sector, Mitchell discovered that men and women in their twenties have more answers than they do in their thirties and forties. This "Period of Answers" tends to be quite effective in the short-term as men and women pursue the dangling carrot; something Mitchell has termed "The Carrot Factor."
"The problem lies not in trying to be the best we can be in the workplace, but in pursuing advancement at the expense of finding purpose and meaning in our work, and, as we grow older, at the expense of our relationships and our family. At some point in our lives, our careers often stop producing fulfillment, and we start looking for answers," says Mitchell. "Unfortunately, since 2008, things have become more complicated."
When you consider workers today, specifically members of Generation X, studies show they are the most disengaged members of the workforce, and attrition rates in this demographic are less than optimal.
And perhaps that's why Mitchell's leadership development process is getting so much attention. Not only is he giving members of Generation X who have found happiness and fulfillment in the workplace the opportunity to share their story, but he is working with businesses and organizations of all sizes. He is helping them improve employee engagement levels, decrease turnover, and ultimately improve their bottom lines, which is something a lot of organizations today are looking for.
Individuals who are interested in being a contributor to the book, as well as businesses and organizations who would like more information on Mitchell's consulting process, may reach out to him via his website at http://www.clutchconsulting.net/contact