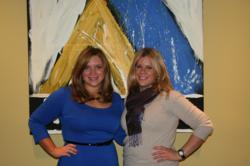 "I know for a fact that Assurance has the best and brightest individuals working here, and I see their hard work and dedication each and every day, said Jordan Shea a senior account manager in the Employee Benefits Department.
Schaumburg, IL (PRWEB) January 07, 2013
Starting in 2010, Assurance began recognizing two employees as the best of the best. The Employees of the Year for 2012 are Alexa Greer of Schaumburg and Jordan Shea of Chicago.
The two women were recognized at Assurance's annual holiday party held Dec. 14. As winners, their names are engraved on a commemorate award showcased at Assurance's headquarters in Schaumburg. Additionally, both Shea and Greer will receive a crystal bowl, cash bonus and other special recognitions throughout the year for their continued commitment to achieving company goals.
Alexa Greer is a senior account manager at Assurance with six years of experience. Her expertise lies within the staffing industry, and she is responsible for providing first line support in the daily servicing of existing and prospective clients and their policies.
She has been an integral part of the creation and implementation of client resource tools such as class code survival kits, workers' compensation (WC) program explanations and WC endorsements. In addition, she was instrumental in generating the contract review guide which helps clients navigate and understand their contracts better.
Starting as an intern, Greer focused on the staffing industry. She started full time in 2006 as a client service representative and has continually been promoted throughout her tenure.
Recently, she received her Associate in Insurance Services (AIS) designation.
"I have to say getting this award makes me feel pretty special," Greer said. "I'm very thankful. I just love this company – the people, its direction and my clients. I've had a true interest in Assurance ever since I interned. Ever since, I've wanted to become more and more involved, whether helping new employees getting acclimated in their jobs, improving current processes or just figuring out ways to be better myself. But a lot of my growth is attributed to those I work with."
An Assurance employee for four years, Jordan Shea is a senior account manager in the Employee Benefits department. She has been the face of Assurance Caring Together (ACT) – an employee-driven charitable initiative – for 2012, serving as chairperson and becoming instrumental in growing and maintaining the company's charity partnerships. She has a positive attitude and good work ethic, and clients enjoy working with her. She makes Assurance a better place through her oversight on its own employee benefits.
"I feel completely humbled and honored by the recognition," Shea said. "I know for a fact that Assurance has the best and brightest individuals working here, and I see their hard work and dedication each and every day. I am still in complete shock to be selected and am extremely grateful."
About Assurance
Assurance is among the largest and most awarded independent insurance brokerages in the United States. A "Top 50" independent broker and repeated "Best Place to Work" winner, Assurance places coverage for all lines of business and personal insurance, employee benefits and retirement services. Through centralized office locations just outside of Chicago, IL and St. Louis, MO, more than 250 passionate insurance professionals provide measurable results and personalized services to over 5,600 clients across the country. Visit Assurance at http://www.assuranceagency.com.