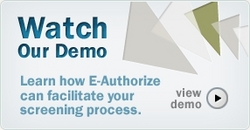 Our new website reflects Proforma's commitment to helping employers capitalize on the value of a well-run screening program.
Purcellville, VA (PRWEB) March 7, 2010
Proforma Screening Solutions, a Virginia-based employment background screening company, announces the launch of its new website and re-branding at proformascreening.com. Proforma offers comprehensive employment screening solutions to employers through its innovative web-based portals and consultative services.
In addition to promoting the company's employment background screening services, the new website was created to educate visitors about the role of background screening and the impact of screening-related issues, policies, and trends on critical employment practices.
Customers can access Proforma Screening's wide-ranging background screening services through one of two web-based portals found within the new website:
E-Authorize is the enterprise portal for employers with more significant screening needs. The portal offers access to a customized full featured system where services can be ordered, processed, reviewed, and stored based on the needs of the employer. E-Authorize allows applicants to provide "wet signature" authorization using our unique mouse-enabled web signature technology. An online video demo is available to learn the features and benefits of E-Authorize.
EZ-Authorize is Proforma's new small business screening solution. It is a streamlined version of the full featured enterprise solution and allows small business employers to order from pre-designed background screening packages.
The website also features a free downloadable guide to pre-employment background screening. The guide, "How to Build a Better Workforce with Pre-Employment Background Screening," covers the following topics:

Definition of pre employment screening
Why 80% of U.S. corporations rely on background screening
Benefits of a well-run screening program and risks of a poorly-run program
The 5 Cs of effective background screening
How to select a background screening provider
What to expect when working with a background screening company
How the Fair Credit Reporting Act will impact your screening program
Other features of the new website include a background screening blog, industry-specific background screening information, whitepapers and guides, links to Proforma's social media profiles, online account access, company information, and descriptions of company services.
President and founder of Proforma Screening Solutions, David Lowers, remarks, "As organizations seek to manage human capital risks and create safer, more qualified workforces, employment background screening has become the norm for a great majority of corporate America. Our new website reflects Proforma's commitment to helping employers capitalize on the value of a well-run screening program."
To learn more about Proforma Screening Solutions or to order employment background screening services visit http://www.proformascreening.com or call (866) 276-6161.
# # #