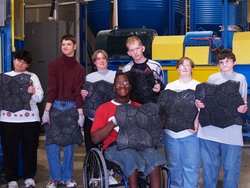 Image Microsystems has consistently demonstrated a valuable understanding of the benefit of tapping into the large pool of talented, qualified individuals with disabilities
Austin, TX (PRWEB) October 7, 2009
Image Microsystems, the leading provider of technology restoration, reverse logistics, e-waste recycling, and recycled plastic products manufacturing--today announced they will be presented the Employment Award from the Texas Governor's Committee for People with Disabilities.
"Image Microsystems has consistently demonstrated a valuable understanding of the benefit of tapping into the large pool of talented, qualified individuals with disabilities," Governor Perry said. "This company stands as a vibrant example of the possibilities that can be achieved when forward thinking companies find and cultivate gifted employees."
Nominations for the Award were submitted by individuals and organizations from communities throughout the state of Texas. Winners were selected by an esteemed panel of judges from the public and private sector all of whom are familiar with disability issues.
"We are truly honored to receive this award," added Dr. Alex Abadi, CEO of Image Microsystems. "Our company began this program with two deaf employees in 2004. Now, over 25% of our workforce comes from this deserving group. They inspire us daily. We can't imagine not having this special community in our workplace," adds Abadi.
Image Microsystems sponsors Texas School for the Deaf (TSD) students through their Career Technology Education Program. By employing both deaf and special needs students, the company provides paid internships--giving each student exposure to the world of technology and environmental responsibility.
The students receive hands-on training and real-life experience in the workplace. After graduation from TSD, these students are qualified and able to apply for full time employment. Image Microsystems leverages an onsite American Sign Language translator to assist with employment transition, training, and ongoing support. To further promote communication, the company purchased several phones capable of Video Relay Services. One Award judge commented that Image Microsystems "shows their understanding of the value that hiring individuals with disabilities can bring to your company."
"Disabled workers are some of the best employees," confirms Abadi. "They have positive attitudes and are very committed. Other employers just need to give them a chance."
About the Governor's Committee on People with Disabilities
The Texas Governor's Committee on People with Disabilities is within the office of the Governor. The committee's mission is to further opportunities for persons with disabilities to enjoy full and equal access to lives of independence, productivity, and self-determination. The committee is composed of 12 members appointed by the governor and of nonvoting ex officio members. The Committee serves as a central source of information and education on the abilities, rights, problems, and needs of persons with disabilities. More information can be found at http://governor.state.tx.us/disabilities/
About Image Microsystems Inc.
Founded in 1992, Image Microsystems Inc. is a world renowned reverse logistics and technology restoration leader dedicated to offering innovative solutions that eliminate the legal, financial, and environmental risk associated with information technology reclamation, recycling, and disposal. For more information, visit the company's Web site at http://www.imagemicro.com.
# # #