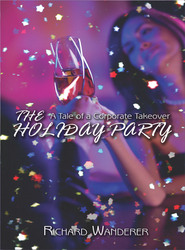 A sharply observed saga of workplace tyranny.
Los Angeles, California (PRWEB) February 16, 2010
Richard Wanderer, author of the critically acclaimed THE HOLIDAY PARTY (A Tale of a Corporate Takeover) (http://www.theholidayparty-ataleofacorporatetakeover.com) a fictional, suspense novel, has spent many decades working in New York City and LA in the advertising departments of major national magazines and newspaper chains. He is also a lawyer and a member of the California Bar. Kirkus Discoveries has called his magazine industry novel, "A sharply observed saga of workplace tyranny." Anita Finley, a columnist for the Miami Herald and Publisher of Boomer Times & Senior Life, recently referred to it as, "…a real page turner." One of the characters in his novel enacts important things to do if one's company is a takeover target. These pointers can apply to just about any industry in America:
First - the takeover company should be checked out. Find sites like Glassdoor.com that list, according to employees, reviews of thousands of companies. Ask friends and acquaintances in the industry involved what they've heard. Get feedback;
Second - visit your Human Resources Department, with this caveat - remember they work for your employer as well as for you. Nevertheless, find out about all of your benefits – savings program, if the company has one, as well as your 401K, health benefits, etc. and receive all the paperwork you are entitled to;
Third - see an actuary with this paperwork. If you are an older employee, you may find that certain magic words like "late retiree accrual" can open up employee earnings you may never have known you were entitled to;
Fourth - locate a good employer/employee lawyer –seek advice from your state's bar association to help you find one - it may be worth one's investment or it could even be given at no cost. Remember the employer has a legal department and therefore, the employee should not be standing there alone;
Fifth - while the new management is settling in, you should be very careful about confiding anything of a negative nature to the new management you find you are now dealing with. They may have their own agendas.
Whether one is confronted with a takeover, layoff or downsizing, the author advises people to pause and think of all of their options. Realize, too, this could be a good time to go back to school to expand one's opportunities or even contemplate the possibility of becoming their own boss in an enterprise of their own.
The website for THE HOLIDAY PARTY (A Tale of a Corporate Takeover) is http://www.theholidayparty-ataleofacorporatetakeover.com. Here, in addition to more background about this fictional suspense novel, you'll find out more information about its author and where this novel can be purchased.
Contact:
Richard Wanderer, Esq.
Tel. (818) 986-7777
Fax (818) 905-9863
# # #