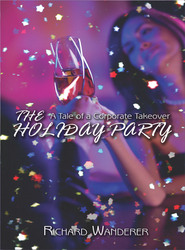 A sharply observed saga of workplace tyranny.
Los Angeles, California (PRWEB) March 23, 2010
Author/Attorney, Richard Wanderer, just received a list of questions in preparation for an upcoming radio program interview. One question he was asked was what inspired him to write his recently designated "Editor's Choice", fictional suspense novel, THE HOLIDAY PARTY (A Tale of a Corporate Takeover). The website for his novel is http://www.theholidayparty-ataleofacorporatetakeover.com.
After thinking about it, he said he will say, "Employees, regardless of the industries they are involved with, usually think of where they work and themselves as 'we'. The longer they work for the company the more the company name and their name become intrinsically involved in their identity. Then if there is a takeover of their company or a drawdown of employees, people can suffer a loss of identity. Suddenly, they are standing there alone and the 'we' is replaced with 'you'. I wanted to write a novel beyond today's headlines of job loss and convey to the reader the emotions that people feel in a situation like this and how they can still handle this sudden change in their lives and livelihoods. I also wanted to make it suspenseful and interesting to the reader."
Wanderer, who became an attorney later in life, worked in the advertising sales departments of major national magazines and newspaper chains in New York City and LA for many decades. As an advertising space salesman he called on corporate employees in a variety of business categories: motion pictures; motorcycles and automobiles; airlines; banking; packaged goods, defense contract, alcoholic beverage, etc. He saw a commonality across all industries and services. Loyal employees usually referred to their involvement with their company using the word "we". Then one day they can come to work to find a Human Resources person and a security guard is there to greet them. Suddenly, the pronoun "we" is gone and replaced with "you". Since he worked in the magazine and newspaper field for so many years, the setting for his story is the takeover of a benevolently owned magazine publishing company by a huge media conglomerate and what transpires after this. To add some extra "bling" to his novel, he researched the Wicca religion and elements of it are also found in this story.
Kirkus Discoveries has called his novel, "A sharply observed saga of workplace tyranny." Anita Finley, a columnist for the Miami Herald and publisher of Boomer Times & Senior Life has called it a "… a real page-turner."
For more information regarding THE HOLIDAY PARTY (A Tale of a Corporate Takeover) please visit http://www.theholidayparty-ataleofacorporatetakeover.com
Contact: Richard Wanderer, Esq.
16252 Addison Street
Encino, CA 91436
Telephone (818) 986-7777
e-mail: rbwla(at)earthlink(dot)net
# # #