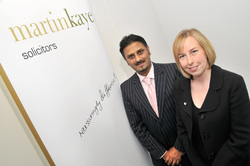 And after just a short time with the practice, it's a real honour to have been made a partner.
Telford, Shropshire, UK (PRWEB) August 11, 2008
Telford based Martin Kaye law firm has awarded partnerships to two of its solicitors.
John Mehtam, Employment Law specialist, and Sarah Heath, who leads the Commercial Property Solicitors team, will now take their seats on the board at Martin-Kaye Solicitors, in Euston Way, Telford, Shropshire UK.
Managing Partner, Andrew Green, said: "Both John and Sarah have been instrumental in developing their departments and in forming key plans for a successful future.
"We are very pleased to offer them the opportunity to become partners in the firm, and we're sure their commitment and dynamic approach will be invaluable in helping Martin-Kaye Solicitors continue to grow."
John was previously a senior employment solicitor with a national law practice in Birmingham, and has over 15 years' experience in the employment law field advising local and national clients, ranging from small businesses to national plc's.
He said: "I joined Martin-Kaye because I knew it was a progressive firm that had strong relationships with employers across the UK.
"And after just a short time with the practice, it's a real honour to have been made a partner."
Sarah joined the company from a leading practice in the West Midlands. She is experienced in dealing with high value property deals, particularly for regional and national property developers, and portfolio management.
During her time with Martin-Kaye, Sarah has acted on behalf of developers and investors in several multi-million pound transactions, including a £20 million transaction for a large developer client.
"Martin-Kaye is one of the most forward-thinking and innovative firms in the region. I am keen to develop this reputation further still and to expand the firm's ever-growing client base.
"To have now been made a partner is an extremely proud moment for me, and I'm very happy to have been recognised in such a high profile way."
Chris Detheridge, who leads the Commercial Team, has also been named as a new associate solicitor.
Picture: John Mehtam - Employment Law Solicitor and Sarah Heath - Commercial Property Solicitor who have been named as new partners at Martin-Kaye Solicitors.
###