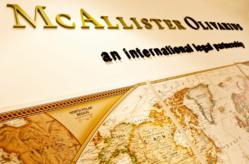 We hope that this website will provide a platform where clients can get information and access to high quality, tailored employment law advice.
London, UK (PRWEB UK) 7 December 2012
McAllister Olivarius, providers of high-quality, tailored employment law advice for executives and other business professionals, is proud to announce the launch of its new specialist employment practice website: http://mcoemploymentlaw.co.uk/. The site is dedicated to providing visitors with detailed insight and understanding of the firm's extensive range of expertise and experience in this field.
Led by Chair of the Executive Committee, Dr Ann Olivarius and Managing Partner Dr Jef McAllister, the firm has established itself as an expert in discrimination and equality law and has deep experience representing employees to reach substantial settlements, and employers to ensure they operate efficiently and in line with current legal requirements.
Olivarius has negotiated three of the highest private settlements ever achieved for discrimination and wrongful termination in both the UK and the US, and is regularly asked to speak on employment law topics. McAllister Olivarius are supported by Georgina Calvert-Lee, Senior Litigation Counsel, and Lawson Crawford, Senior Counsel.
Dr Olivarius said, 'We hope that this website will provide a platform where clients can get information and access to high quality, tailored employment law advice.'