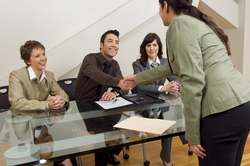 The information on background checks currently available on the Internet is piecemeal and much of it is meaningless unless you understand why you are making a particular check and how the information returned is going to be used.
(PRWEB) June 10, 2010
UK employers can now navigate the complicated task of employment screening more easily with the aid of two practical and impartial guides.
The first guide – A Practical Guide to Employment Screening provides employers and recruitment companies with practical and impartial advice regarding how to design, implement and manage an effective employment screening process. The second guide, Background Checks – a Guide for UK Employers explains the many different types of background checks that can be incorporated into the screening process and also provides valuable hints and tips on how to speed up and get more information from the traditional referencing process.
Author, Barry Hetherington, Managing Director of Know Your Candidate Ltd explains the thinking behind the guides. "Employers looking to implement employment screening programmes are often confused about which checks to make on potential new recruits and how to manage the actual process of background checking. Many employers seem especially confused when it comes to implementing an employment credit check or a criminal record check into their employment screening programmes. The information on background checks currently available on the Internet is piecemeal and much of it is meaningless unless you understand why you are making a particular check and how the information returned is going to be used in your decision making process. The other popular approach of going to employment screening vendors for advice can also be a mistake as employers could end up with a process and package of background checks that is aligned to the vendor's business model rather than their requirements."
"Implementing additional background checks without having adequately planned a suitable process will result in a process which adds extra administration and costs, reduces rather than enhances the candidate experience and ultimately fails to deliver the key outcome – to protect organisations from unsuitable employees. By providing free, practical and unbiased advice and de-mystifying the process the guides enable employers to accurately evaluate their requirements and design and implement employment screening programmes that avoid these pitfalls."
The guides can be downloaded free of charge on the Know Your Candidate website http://www.knowyourcandidate.co.uk/brochure-download.cfm
# # #