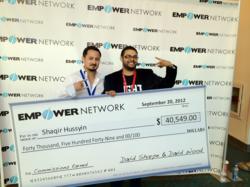 Houston, TX (PRWEB) September 26, 2012
This past Sunday concluded the Empower Network San Diego event, "Fight The Forces of Evil" that was hosted by the Empower Network founders David Wood and David Sharpe. Close to 3,000 affiliates attended the monumental event with over 95% of the attendees already making commissions in the program, which compared to other network marketing events and programs is very uncommon.
To learn more about Empower Network can go to the official site here.
Throughout the event, Wood, Sharpe and the top leaders in Empower provided insights into what it would take for any person to go from zero to $1,000 per day and then from $30,000 per month to $100,000 per month. Affiliate after affiliate came onto the stage to talk about their different stories after how they were able to overcome struggles to finally start making money online without having to make cold calls, no phone prospecting and no selling.
As part of the event, the prizes were given away for the Empower Network San Diego sales contest. The top 5 winners won a combined $37,500 in cash in the contest with the top winner taking home $20,000.
In addition to the people who won the contest, the highest income earners also received oversized checks that showed how much they made since the last Empower Network event three months ago in Atlanta. Just some of the largest checks distributed were for $123,010.00, $54,743.00 and $40,549.00 as well as many others in between.
Full time Internet marketer and Empower Network affiliate John Barry states, "After promoting hundreds of programs on the Internet and making hundreds of thousands of dollars in commissions, I have not seen anything close to the Empower program. This is by far the highest converting, high paying affiliate program that I have come across. After attending the event, I'm now working with some of the top guys in the program, so people on my team will have the opportunity to learn from the best and will have the chance to replace their current incomes."
Barry of http://ProfitWithJohnBarry.com is an established Internet marketer and is a rising star in the Empower Network team. He is working with select individuals to help them achieve financial independence by leveraging the Internet to create a passive income from anywhere in the World.
For those that are interested in learning more about Empower Network should visit the official website here.
For those that are interested in working with John Barry should visit his website and see the special Empower Network bonus package he has put together for those who decide to work with his team. One should go to http://profitwithjohnbarry.com/empower-network-bonus