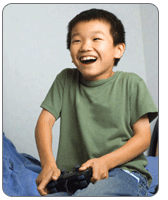 Even with cute characters and happy music, children were 40% more likely to exhibit aggressive behavior after playing.
Westbrook, Maine (Vocus/PRWEB) March 24, 2011
Empowering Parents, the award-winning website that helps parents with the toughest child behavior problems, recently surveyed its readers on this topic. 62% of respondents said that playing video games affects their child's behavior. "My son, who is 9, doesn't want to stop playing his DS," said one parent, "and when I finally manage to get it out of his hands, he gets mouthy, rude and acts more aggressively towards his brother and little sister. I'm actually considering banning video games from our house."
Dr. Craig Anderson, a professor of psychology at Iowa State University and co-author of the book, "Violent Video Game Effects on Children and Adolescents," is widely regarded as one of the foremost experts on violent video games. In his research on their effects on childhood development, he found that it didn't matter if the games the children played were outwardly violent. In an article on Empowering Parents entitled Video Game Violence: What Every Parent Should Know, he explained, "Even with cute characters and happy music, children were 40% more likely to exhibit aggressive behavior after playing."
But video games, when limits are set around them, can be valuable tools for parents who want to give consequences and rewards for their child's behavior. The key, says James Lehman, MSW, the creator of The Total Transformation Program, is to find something your child values as an incentive. To help parents give consequences more effectively, Legacy Publishing Company released The Complete Guide to Consequences, which has been a top-selling program for the company.
For more information on child behavior or giving consequences, visit http://www.EmpoweringParents.com.
Legacy Publishing Company, the publisher of Empowering Parents, is America's premier producer of personal development programs for families and couples. Legacy's flagship product, The Total Transformation Program—created by renowned child behavioral therapist James Lehman, MSW—has sold nearly a quarter of a million units to date. For more information, please contact Nathan O'Leary at 856-5600 x 3013 or nso(at)legacypublishingcompany(dot)com. For more information about joining Legacy Publishing Company's team, visit http://www.goodnewsgoodjobs.com.
###