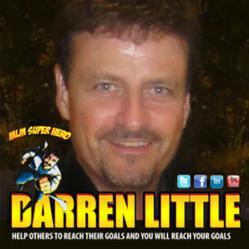 Whatever a person's passion is in life, The Ten Formula training program is finally a way to turn their passion into profits.
Vancouver, BC (PRWEB) February 21, 2013
A new blogging software and online training system has proven to be a serious online income generator for Darren Little, also known online as The MLM Superhero.
Little made this discovery about 6 months ago and during his initial test marketing phase he has generated $48,223 using free Facebook marketing strategies combined with The Ten Ten Formula. The Ten Ten Formula is an online training system valued at $1997 and Little gives away the formula for free, as a bonus, to people that join his Inner Circle.
Little says that whatever a person's passion is in life, with this new blogging software, there is finally a way to turn their passion into profits - something that the average person can really use in these times of economic uncertainty.
"Typically when I get involved in any type of affiliate program, my first goal is to make sure that the average person can have success", said Little in a recent interview. "The past 6 months has been a good indicator as to what could happen once we implement a full on marketing campaign. If a free campaign can produce $48,223 with free marketing strategies, the paid campaigns typically produce a lot more".
To become an affiliate of this new blogging software utilizing The Ten Ten Formula and start earning income it costs just $19.95 per month. This allows the affiliate to accept credit card processing and get paid directly into their bank account.
Affiliates get access to a fully optimized blogging platform for $25 a month. They can upgrade to the Inner Circle to get Millionaire Mindset Training for an additional $100 a month. There they get access to weekly calls from 7 figure income earners, top marketers and trainers.
There are three powerful training programs that can help any business learn how to market online:
a). The Costa Rica Intensive for $500
This includes the best of the best marketing training pulled from a weekend retreat in Costa Rica. Attendees paid more than $3000 to attend this event live.
b). The 15k Formula for $1000
Now with 21 training modules, the 15k Formula showcases the marketing strategies from some of the top income earners of the affiliate program that are generating more than $15,000 per month or more.
c) The Master's Retreat for $3500
Now with 41 training modules the Master's Retreat provides important knowledge from some of the top online marketers in the world. This program is great for the novice all the way up to the expert marketer.
Affiliates can start off with the blog platform for only $25 and upgrade to the Inner Circle whenever they want. This makes the program an easy market entry and easy to market to the masses. The three training products - The Costa Rica Intensive, the 15k Formula and the Master's Retreat are optional.
The marketing plan for this new affiliate program is very unique. The 1st, 3rd and 5th commissions are kept by the affiliate and the 2nd, 4th and 6th go to the referrer. Then, every 5th commission thereafter goes to the referrer. If an affiliate has not purchased the products but someone they enroll purchases them, those commissions roll-up to their referrer or next qualified affiliate.
As a person enrolls new reps into the program, they end up with multiple income feeders that are sending them pass-up commissions in the program. This makes the program very desirable for both conventional marketers and internet marketers that understand the power of the internet.
The commission pay outs are as follows:
The Blog Platform pays a $25 commission
The Inner Circle pays a $100 commission
Costa Rica Intensive pays a $500 commission
15k Formula pays a $1000 commission
The Master's Retreat pays a $3000 commission
People with no internet experience can get access to valuable training information they need to create content, generate leads and create both passive and residual income.
The website for this new affiliate program currently ranks at 530 most trafficked site on the web. With so many people blogging on the platform, it makes it an authority site and allows for much higher ranking on Google.
For more information:
Contact: Darren Little
MLM Superhero
Phone: 604-771-1901
Email: darren(at)darrenlittle(dot)com
WATCH THE VIDEO