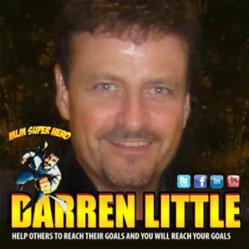 I have been using the Empower Network Master System for only 3 1/2 months and it has already generated over $26,000 and created a monthly residual income of between $4000 and $5000 per month
Los Angeles, CA (PRWEB) October 01, 2012
The MLM Superhero announces the launch of a new blog platform and training system that shows average people from all walks of life how to make money online using a laptop computer and a blog. It's the Empower Network Blog and Training System and it's pumping out 6 figure income earners at lightning speed.
"What makes the Empower Network so unique is that there are so many people blogging from the same route domain," said Darren Little in a recent interview. "This means that your blog gets higher ranking on Google which generates more traffic. More traffic means more leads, more sales and more cash flow."
Little says that with the shift in the global economy, that many families are relying on their credit cards to pay for their monthly expenses and even groceries. So what's the answer? An Empower Network blog can be one of the fastest ways to generate an income from home. People can create content about just about anything they are passionate about in any niche market they want.
A few topics that are popular include things like - the home based business industry, automotive, exotic cars, cooking and recipes, travel, how-to's about just about anything, inspiration, motivation, politics, sports, kids, health and personal experiences and many more.
"The first place that people go to when they want to find out any answer to any question is Google,' says Little. "So if you can get your content ranking on the first page of Google for a variety of topics, keywords and phrases, you can generate a huge amount of traffic. More traffic means more eyeballs on what you have to offer. More eyeballs means more leads and more sales."
The Empower Network blog platform comes equipped with high converting ads, videos and sales funnels already built into the system. A person can become an affiliate for only $19.95 to start earning 100% commissions in the program.
The Empower Network blog platform costs $25 per month and there are 4 training products that teach people how to make money blogging from home.
$100 Inner Circle Training and Ten Ten Formula Training
$500 Costa Rica Intensive Training
$997 15k Formula Training
$3500 Costa Rica Mastermind Training
Little says that what he loves best about the Empower Network is that it pays $4622 in commissions per person. All of the products pay 100% commissions and the Costa Rica Mastermind pays a $3000 commission.
Realtors, Mortgage Brokers, Insurance agents, Automotive Professionals, Stock Brokers, entrepreneurs and every day people from all walks of life are embracing the Empower Network to create a six-figure income from home.
"I have been using the Empower Network Blog and Training System for only 3 1/2 months and it has already generated over $26,000 and created a monthly residual income of between $4000 and $5000 per month" stated Darren Little in a recent interview.
More information contact:
Darren Little
MLM Superhero
Phone: 604-771-1901
SKYPE: DarrenLittle11
Email: Darren(at)DarrenLittle(dot)com