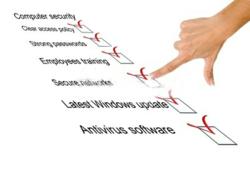 There are many ways an EMR can be used to increase patient numbers, efficiency and productivity, and financial stability.
Denville, NJ (PRWEB) December 27, 2012
"Time management is essential for all areas of a practice," said Chhoda. "An EMR has the tools to assist practitioners manage their time efficiently, allowing them to devote sufficient time to clients, identify low-dollar tasks that can be delegated, and increase overall profitability."
The first step toward efficient time budgeting is determining a yearly dollar figure that the therapist expects to achieve. That number will form the basis of establishing rates and fees for billing purposes. A physical therapy practice is a medical facility, but it's also a business and clinicians must treat it accordingly.
Chhoda said once an income goal has been set, clinicians must begin making distinctions between high-dollar tasks that have significant earning potential from low-value tasks that eat up time and can be delegated to staff. Activities that result in large dollar amounts are tasks that require the owner's personal attention. Answering phones, appointment reminders, and notifying clients of balances owed are all examples of jobs that can and should be handled by an EMR.
For those tasks that require the personal attention of the clinic owner, it's helpful to cluster similar activities together. Set aside time to work uninterrupted for maximum productivity. It requires more time for the mind to switch between unrelated tasks and reduces efficiency. The tools in an EMR will prove essential for creating marketing campaigns, increasing referral rates, scheduling staff, or determining if outsourcing some tasks are more cost efficient.
There are many ways an EMR can be used to increase patient numbers, efficiency and productivity, and financial stability. Chhoda's new information for using an EMR provides practitioners with a launching point for budgeting time and tasks that will help physical therapists attain the dollar figure they desire for their clinic.
Chhoda's office can be reached by phone at 201-535-4475. For more information, visit the website at http://www.emrnews.com.
ABOUT NITIN CHHODA
Nitin Chhoda PT, DPT is a licensed physical therapist, a certified strength and conditioning specialist and an entrepreneur. He is the author of "Physical Therapy Marketing For The New Economy" and "Marketing for Physical Therapy Clinics" and is a prolific speaker, writer and creator of products and systems to streamline medical billing and coding, electronic medical records, health care practice management and marketing to increase referrals. He has been featured in numerous industry magazines, major radio and broadcast media, and is the founder of Referral Ignition training systems and the annual Private Practice Summit. Chhoda speaks extensively throughout the U.S., Canada and Asia. He is also the creator of the Therapy Newsletter and Clinical Contact, both web-based services to help private practices improve communication with patients, delivery better quality of care and boost patient retention.