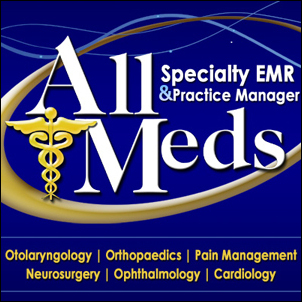 The company's performance, especially in the last half of 2006, was just phenomenal. Many things contributed to it, especially employees throughout the organization who are dedicated not only to the goals of the company, but also the needs of our customers
Oak Ridge, TN (PRWEB) January 16, 2007
AllMeds, a provider of electronic medical record (EMR) and practice management (PM) solutions, released figures showing record sales for 2006 and suggesting an even more impressive performance for 2007. Such results are likely due to several factors occurring within today's medical practice environment. The federal government recently mandated that physicians must provide electronic patient records within the next decade and the insurance industry is beginning to impose requirements for more efficient ways to analyze practices' performance and processes. Coupled with practices' own needs to reduce the cost of doing business while providing better and more efficient healthcare, these national trends suggest that the EMR and PM markets will experience even greater gains in 2007 and beyond.
AllMeds provides EMR and PM solutions to 14 select medical specialties that have unique requirements and process needs, including Otolaryngology (ENT), Orthopaedics, Pain Management, Neurosurgery, Cardiology and Ophthalmology. AllMeds has been offering solutions services and specialty EMR products since 1987, making this year its 20th anniversary. AllMeds' 2006 figures tell the story of a company and industry that is set to experience dramatic growth: December's sales surpassed AllMed's previous best month by 44 percent, Q4 2006 bested their prior best quarter by 17 percent, ending cash reserves were up over 400 percent, and the overall numbers for 2006 easily topped those of 2005. Most importantly, sales forecasts for 2007 based on pipeline data jumped 44 percent and sales leads have continued to surge into the New Year. These important indicators predict that 2007 will be just as successful as or better than last year.
AllMeds' CEO Bill Rust put the company's 2006 accomplishments into a larger context: "The company's performance, especially in the last half of 2006, was just phenomenal. Many things contributed to it, especially employees throughout the organization who are dedicated not only to the goals of the company, but also the needs of our customers," he said. "But, it's important to grasp the larger picture: AllMeds is fortunate to be positioned in a market that has everything going for it. Technology has finally caught up with doctors' needs. Federal and state governments are recognizing just how vital EMR and practice management solutions are to the consumer, the healthcare industry and the health of the overall economy. And physicians themselves now see the benefits that such systems can make to their patients, their practices and the quality of their own lives," Rust said. "We're seeing a nexus of capabilities, mandates, and needs that has created a tremendous natural momentum for the performance of this company and the EMR industry in general," he concluded.
Due to the strong results of 2006, AllMeds has secured a large round of additional funding, which will allow them to act on an aggressive and comprehensive strategy set for 2007. Included in AllMeds' plans are adding General Surgery and Urology to their product suite, expanding the sales, training, service, and development organizations, and increasing marketing initiatives and their overall presence within the healthcare industry.
For more information on AllMeds' products and services, visit http://www.allmeds.com or call 1-888-343-6337.
###