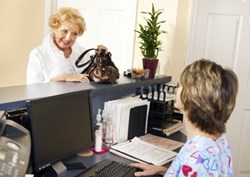 There's no need for clinic owners to purchase, install or maintain on-site servers, a project that can quickly run into thousands of dollars and require hiring IT personnel.
Denville, NJ (PRWEB) August 14, 2013
"The temptation to believe all the hype surrounding documentation systems is great. Electronic medical record (EMR) software systems offer many bells and whistles that look appealing, but have little substance or practical application," said Chhoda.
Training and Ease of Use
It's going to take time and training for everyone in the clinic to become proficient with new documentation software. Chhoda said practice owners should begin with the basics and build upon the knowledge that's gained. Give enough time to learn the process step by step. Don't try to learn every aspect of the system at once. It will only leave everyone feeling overwhelmed. Training is typically provided by the vendor and some offer online training modules that can have a clinic up and running in as little as 30 minutes.
Web-Based Solutions
One of the biggest questions facing practice owners is whether to select a server-based or web-based physical therapy software system. Chhoda advises therapists to choose a web-based system that utilizes computing in the cloud for value and security. There's no need for clinic owners to purchase, install or maintain on-site servers, a project that can quickly run into thousands of dollars and require hiring IT personnel.
Requirements
The expectation with physical therapy software is that it will be with the practice for many years. Clinic owners need to ascertain what they want their documentation software to do now and in the years to come. The EMR should provide the current requirements of the practice and contain the elements needed for continued growth.
Flexibility of Documentation and Communication
Therapists should take care to implement physical therapy documentation software that offers a superior level of flexibility for creating custom documents and communication options. Physical therapy clinics vary widely in their services, and documentation software shouldn't intrude on the workflow or radically change the way practices conduct business. The EMR should offer multiple means of communicating with patients, clearinghouses and payers, via patient portal, mail and phone, along with text and voice messaging.
Support, Upgrades, Updates and Longevity
The quality and reliability of vendors is a key issue when choosing documentation software. Bug fixes, updates, upgrade options and 24/7 technical support are very important. The vendor should also perform automatic backups of all information. Another factor to consider is the longevity of the vendor. If a provider goes out of business a few years in the future, therapists will be forced to purchase a new system and endure the installation and learning process all over again.
Implementation of an integrated documentation system takes time, training and patience. Armed with Chhoda's new tips, the transition to an EMR will progress with fewer glitches and problems, making it easier for everyone to learn with less frustration. Choosing the right system for the practice ensures it will function as needed for an enhanced level of patient care, reimbursement and communication for greater productivity and profitability.
Chhoda's office can be reached by phone at 201-535-4475. For more information, visit the website at http://www.emrnews.com.
About Nitin Chhoda
Nitin Chhoda PT, DPT is a licensed physical therapist, a certified strength and conditioning specialist and an entrepreneur. He is the author of "Physical Therapy Marketing For The New Economy" and "Marketing for Physical Therapy Clinics" and is a prolific speaker, writer and creator of products and systems to streamline medical billing and coding, electronic medical records, health care practice management and marketing to increase referrals. He has been featured in numerous industry magazines, major radio and broadcast media, and is the founder of Referral Ignition training systems and the annual Private Practice Summit. Chhoda speaks extensively throughout the U.S., Canada and Asia. He is also the creator of the Therapy Newsletter and Clinical Contact, both web-based services to help private practices improve communication with patients, delivery better quality of care and boost patient retention.