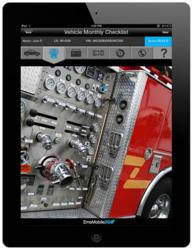 Paramedics, Fire Stations and other First Responders Reduce Costs and Errors with Mobile Tablet Software
Orange County, California (PRWEB) December 20, 2012
EmsMobile2GO is offering steep discounts on mobile software for participants that sign up for pilot programs prior to January 15th, 2013. The company offers a wide range of software and mobile applications ideal for Emergency Medical Services. Checklists, narcotics logs, patient forms and other routine paperwork can all be automated with EmsMobile2GO. Emergency service organizations can provide their existing forms and processes for conversion to mobile devices. The company also develops advanced, custom software with cloud data storage, logs, mapping, statistics and web-based reporting functions.
EMS/First Responders utilizing iPad, Android or Windows tablets save time, save money and reduce errors. Multiple copies of documents are automatically generated, wirelessly printed or stored. Firemen, Paramedics, Police and other emergency personnel can record information, sign on the screen, take photos and track any data that used to be handled by paper forms and checklists. The software is easily customized to suit the unique needs of each new city or county.
The following products are in different stages of development. Contact EmsMobile2GO to discuss your department's specific needs.
Mobile Checklists and Logs
(See http://www.emsmobile2go.com/products/) The product development plan includes each of the following

Emergency Vehicle Mechanical Checklists (Monthly)
First Responder/Ambulance Daily Checklists
Medication/Drug Box/Narcotics Log
Equipment and Supply (Daily Check Sheet)
Building/Structure Pre-Plans
Task Lists (Daily, Weekly, Monthly)
Standard Operating Procedures
Code Reference Sheet
Patient Care Forms
Authorization Forms
Hospital Data Collection
Mileage Chart
About EmsMobile2GO
EmsMobile2GO (http://www.emsmobile2go.com) is a software, mobile and web application development company based in Southern California. Mobile device expertise includes Windows, Apple iOS (iPad, iPhone) and Android devices. The firm applies these skills to automate routine tasks performed by Emergency Medical Service Providers, Paramedics, Firemen and other First Responders.