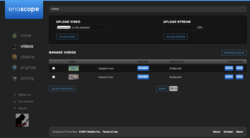 Enabling video commerce on a large scale.
Portland, OR (PRWEB) February 02, 2012
Video is the new communication medium of choice online. Internet users view billions of videos every month, and viewership is growing at a staggering rate. Yet interpreting all the visual information, digesting it and utilizing it for purposes such as e-commerce remains a manual process. That is about to change.
Today, EnaCor took the first step to bring to market its powerful in-video search technology via its simple to use, cloud based web service: enascope.com which lets users automatically find images of objects, such as brand logos, products, etc., in their entire video. This allows not only the indexing of each object in the video for uses such as creating hotspot interactive video, but also the ability to extract, digest and utilize the visual information automatically, over a large number of videos and objects.
"Video search today is at the same maturity level as web page search was over 15 years ago," said Dr. Alan Coppola, Co-founder and CEO, EnaCor, Inc. "It is dependent upon user specified tags which is prone to errors and spamming. In-video search - searching for and validating the presence of images of specific objects - helps bring video search into the modern era. The validated content can be monetized in a variety of ways, with video commerce and contextual ads being the most promising."
Visit enascope.com and request a beta invite. Beta users can upload their videos and object images, and submit them for processing. The fully automated search process will return information about the objects it finds in the video, and generate an annotated interactive video automatically embedding actions users specify for each object. The service is free to try during the Beta period, and EnaCor offers professional services to integrate with third party tools and develop engines for custom processing of its search result data.
EnaCor's announcement today will help advertisers and brand marketers drive purchases directly from their product marketing videos. Additionally, companies that create interactive videos for their brand clients can serve them better by automatically creating interactive video on a large scale.
About EnaCor, Inc.
EnaCor, Inc., based in Portland, OR, develops in-video search technology that can automatically find images of objects in videos. EnaCor's products enable the next generation of video commerce and contextual video advertising based upon indexed and validated content in the video. Visit the company online at http://www.enacor.com to learn more, and to benefit from in-video search.
###