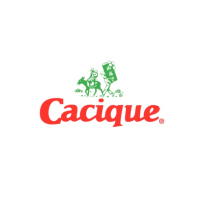 To get the most authentic taste when making traditional Hispanic dishes, Cacique's products are the first step to adding that touch of authenticity that conventional pre-shredded Mexican blend cheeses cannot
Industry, CA (PRWEB) November 30, 2010
Food Network Celebrity Chef Aarón Sánchez delighted Today Show fans when he used Cacique's authentic Hispanic ingredients to put a seasonal spin on traditional enchiladas to create Winter Enchiladas for viewers. Cacique® has been making authentic Hispanic cheeses, creams and chorizos for nearly 40 years with high quality ingredients and traditional flavors.
Chef Aarón Sánchez's sweet and savory tasting enchiladas consisted of butternut squash, zesty chorizo and cinnamon-spiced crema that were made using Cacique's fresh Crema Mexicana, Queso Quesadilla and Chorizo. Cacique's authentic products will make all the difference in your favorite Mexican dishes.
Get a copy of the Winter Enchiladas recipe at http://www.caciqueusa.com/recipe/300/winter_enchiladas_.
Watch Chef Aarón Sánchez preparing Winter Enchiladas here.
"To get the most authentic taste when making traditional Hispanic dishes, Cacique's products are the first step to adding that touch of authenticity that conventional pre-shredded Mexican blend cheeses cannot," says Food Network Celebrity Chef Aarón Sánchez. "What makes this recipe stand apart from other enchilada dishes are the authentic flavors you get from the buttery sweet richness of the Crema Mexicana, the nutty and buttery flavor of Queso Quesadilla - a beautiful melting cheese, and the traditional spicy zest of Chorizo."
Learn More About the Ingredients
The first step in creating traditional Hispanic dishes is to start with authentic ingredients. Chef Sanchez says, "There is no substitute for authentic ingredients." Here is a quick overview of the ingredients included in the Winter Enchiladas recipe.
-Cacique Crema Mexicana: A fresh Grade A table cream that offers a mild and silky, fresh milk flavor. Pour over sweet and savory dishes to add richness to the dish.
-Cacique Queso Quesadilla: An all-natural cheese with a delicious, buttery flavor made with part skim Grade A milk. Excellent melting cheese that is ideal in quesadillas, pressed sandwiches or as a stand-alone snack.
-Cacique Beef or Pork Chorizo: Combines a traditional blend of spices and ground beef or pork to create a robust flavor with a crumbly texture. Use as a strong flavor source in any dish or as a topping or dressing for an entree.
To get more recipes ideas, visit http://www.caciqueusa.com/recipes/2/all to see Chef Aarón Sánchez's Cacique-inspired recipes or other seasonal recipes to adorn your holiday table.
Cacique products are available at leading national retailers such as Kroger, Safeway, WalMart and HEB and Hispanic specialty retailers such as Fiesta, Food 4 Less, Northgate, Mi Pueblo, Pete's Fine Foods, Sedanos, Superior Warehouse and Vallarta.
About Cacique
For nearly four decades, authenticity, integrity, family pride and tradition have made Cacique the largest Hispanic cheese brand in the U.S.
Cacique has combined old-world traditions with new world technologies into the Cacique family of products, which includes fresh and aged traditional cheeses, creams, chorizos and beverages to provide customers with high quality, authentic products made with traditional ingredients they have come to know and enjoy.
About Chef Aarón Sánchez
Aarón Sánchez is the co-star of Food Network's exciting new series, Chefs vs. City and is the owner and executive chef of restaurants Paladar and Centrico, both located in New York City. The son of celebrated Mexican cooking authority Zarela Martinez, Aarón's passion, commitment and skills have placed him among the country's leading contemporary Latin Chefs.
# # #