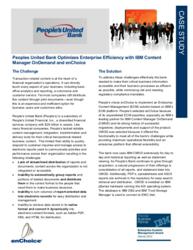 "enChoice has been a partner for People's United Bank for quite some time. I would recommend their organization if you are looking for quality IBM CMOD expertise and support." Jeff Devine, Sr. Systems Engineer at People's United Bank
Tempe, AZ, (PRWEB) January 31, 2013
enChoice®, Inc. today announced the appointment of IBM Content Manager OnDemand (CMOD) industry veteran Louise Hawley as their IBM CMOD Practice Lead. Hawley joins enChoice from IBM where she worked for 27 years, 16 of them directly involved in all facets of the CMOD practice including product support, sales, solutions development and project management. Most recently, Hawley served as the IBM CMOD North American Sales Leader overseeing their sales and delivery team ensuring total satisfaction in deploying CMOD solutions.
At enChoice, Hawley will help lead the company toward the goal of growing our market share and maintaining our position as IBM's number one CMOD business partner. enChoice has a rich track record of consistently designing, delivering and supporting innovative enterprise report management solutions and with the addition of Louise, it will further strengthen our position in the market.
Hawley's expertise in solutions design and customer application understanding will add significant value to our existing team of Michelle Christensen, who has been with enChoice over 5 years as EVP of ECM Solutions sales and previously ran the CMOD sales effort for IBM. In addition, Cheryl Brown also formerly with IBM, will continue to lead the professional services for enChoices' CMOD practice. These 3 leaders combined with our fully certified systems support team will enable us to market, design, implement, monitor and support all customer facing CMOD solutions.
"Delivering and supporting quality solutions with the highest customer satisfaction is part of enChoices' core values," said Tony White, enChoice CEO. "Bringing an industry expert on our team like Louise enforces those values and will provide us additional capability to grow more rapidly and deliver solutions that meet and exceed our customer's expectations."
Transaction-related content such as accounting reports, loan records, inventories, shipping and receiving documents, and customer bills is at the heart of most organization's operations. It can directly touch almost every aspect of business, including back-office analytics and reporting, e-commerce and customer service. Most companies still distribute this content through paper documents—even though this is an expensive and inefficient workflow for business users and customers. By designing and deploying a CMOD solution, enChoice can help automate the entire paper-based process to be completely electronic.
enChoice offers customers in various industries such as manufacturing, retail, distribution and finance an industry leading end to end solution that provides automated capabilities to capture, index, archive, store and retrieve large volumes of data for the entire lifecycle of the content without sacrificing the integrity and security of the data. Colonial Bank, McCall Patterns, Charles Swab, Potlatch Forest Products Corporation, Bank of Oklahoma and People's Bank are examples of customers that enChoice has successfully deployed and continues to provide first level support and services for on an ongoing basis.
"enChoice has been a partner for People's United Bank for quite some time. The services we utilize range from system design, implementation, product training and hands on support for projects and system upgrades," said Jeff Devine, Sr. Systems Engineer at Peoples United Bank. "I would recommend their organization if you are looking for quality IBM CMOD expertise and support."
To learn about People's Bank application, click on this link and for more information about enChoice's IBM Content Manager OnDemand solutions, visit http://www.enchoice.com or email us at info(at)enchoice(dot)com to schedule an appointment with one of our CMOD subject matter experts.
About enChoice, Inc.
enChoice®, Inc. deploys, supports, administers, maintains and protects ECM solutions solving highly complex business problems. We deliver vertical solutions for Underwriting, Accounts Payable, Claims and Human Resources that can be deployed on premises, hosted or via the cloud. We provide ECM-aware hot backup and operational recovery that work seamlessly with your existing system-level backup systems to optimize efficiency, facilitate compliance and protect against information loss. Additionally, we ensure Total System Support to our customers including single-point-of-contact for current and sun-setted systems, phone support, and Remote System Administration for ECM systems.