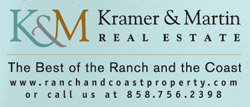 Encinitas, CA (PRWEB) July 27, 2011
Forwarding their mission of providing a higher level of customer service, Kramer & Martin Real Estate recently announced the relaunch of their website, http://www.RanchAndCoastProperty.com. Completely revamped, the new site is a must-visit for buyers and sellers of Encinitas luxury property and distinctive homes in Leucadia, Olivenhain, and other nearby areas in San Diego's North County.
Composed of leading North County and Encinitas real estate agents, the team at Kramer & Martin Real Estate specializes in ranch and coastal properties throughout the region. The team was founded by seasoned real estate professionals Patricia Kramer and Patricia Lou Martin, who still hold the record for the most highly valued home sold in San Diego County.
"At Kramer & Martin, we're never satisfied with just being good enough," says Kramer. "We aim for excellence at all times and we wanted this to be reflected on our website. So we redesigned, improved and enhanced it and you'll see the results at RanchAndCoastProperty.com."
The team's site not only has a fresh new look, it now also has a wealth of online tools and resources. This includes a fully customizable property search feature that allows the user to search for homes by area, number of bedrooms, property type, and other categories. There is also a variety of home-buying and selling guides, as well as profiles of the communities that the team serves, from Oceanside to Encinitas to Rancho Santa Fe, and real estate news updates.
"We want our site to be the go-to resource for anyone interested in real estate in the area, whether it's an Encinitas beach property or an equestrian property in Olivenhain," says Martin. "We're going to be constantly updating it so that it will paint an accurate picture of the region and the housing market here."
To start exploring the real estate market in the region and for more information on Kramer & Martin and their services, visit RanchAndCoastProperty.com or contact them directly.
###