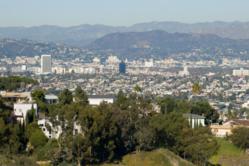 Encino, CA (PRWEB) August 20, 2012
Red Blue Realty introduces another local real estate investment hotspot. Encino real estate is looking very appealing right now according to Red Blue Realty: After setting an all-time low of 3.34% in July, 30-year-fixed mortgage rates rose for "the third consecutive week," reported Freddie Mac on August 16, 2012. With such low interest rates, there is simply no good reason for ignoring the Encino homes for sale.
Location, Geography, and Infrastructure
Encino is conveniently located just west of where the 101 and 405 freeways intersect. Such easy access to two of Los Angeles's most important freeways makes Encino a very desirable place to live. Moreover, Burbank Boulevard and Ventura Boulevard both cut through the northern half of Encino -- thus, allowing for easy transit through the San Fernando Valley.
In terms of geography, Encino real estate is divided along Ventura Boulevard into two halves: southern Encino and northern Encino. The southern half, which makes up most of Encino, is nestled in the Santa Monica Mountains, and it is notable for its affluence, seclusion and beauty. The northern half of Encino, in contrast, is less secluded, but it is also more affordable and closer to key transportation arteries.
What both halves of Encino share in common is a solid, modern infrastructure. All of Encino's major streets are wide, smooth, and lined with trees. Moreover, it is easy to get around the northern, commercial half of Encino thanks to its many crosswalks and bus stops. Professional businesses also love Encino, which is evidenced by the abundance of healthcare and financial firms.
When compared to the rest of the San Fernando Valley, Encino is in a league of its own.
Quiet, Safe, and Secure
For those considering Encino homes for sale, one of the most appealing aspects of Encino is that it is quiet, safe, and secure.
Besides Ventura Boulevard, Encino is a very quiet neighborhood; this is especially true in the southern half. While the infrastructure helps to keep noise to a minimum, the tranquility is really a result of Encino's professional and family-oriented culture. Another consequence of this culture is that Encino has some of the lowest violent crime rates in the Los Angeles County. And lastly, the relative price stability of Encino real estate offers investment security.
Economy
What arguably makes Encino so quiet, safe, and secure is its strong, local economy.
According to the Los Angeles Times, the majority of Encino's population has at least some college experience, and of those who are 25 or older, roughly half have a four-year degree. It should be no surprise, then, that the local economy is composed of industries in which education is highly valued. The healthcare sector, for example, provides the majority of Encino's jobs. The financial services, real estate, and legal sectors are also very important for the local economy.
Ultimately, Encino is a safe, well-developed, and thriving neighborhood with a bright future ahead. For those who want to be a part of that future, act before interest rates continue to rise by contacting Christopher Rosiak at Red Blue Realty today for the perfect Encino real estate agent!
Website: redbluerealty.com
Email: Contact(at)redbluerealty(dot)com
Phone Number: 1 - (855) 66-RBREALTY or 1- (855) 667-2732
Red Blue Realty loves to discuss anything real estate so be sure to check out Red Blue Realty on Facebook and don't hesitate to speak your mind!