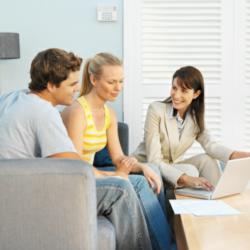 Encino, CA (PRWEB) August 29, 2012
Many people mistakenly believe that they need a huge down payment to get a loan for Encino real estate. Nowadays, there are so many public and private financing solutions available that it's possible to get a loan with no down payment at all. After assessing the full-suite of options, many are surprised to find out just how affordable that dream home can be.
HomePath
HomePath is a fantastic financing program by Fannie Mae that allows for down payments as low as 3%! While HomePath has many benefits, there are two restrictions to consider.
To begin, HomePath financing is only available for Fannie Mae-owned foreclosed properties; in of itself, this doesn't really mean much, because the condition of these properties can range from great to terrible. Nevertheless, a property inspection is usually recommended before using the HomePath program to finance one of the many Encino homes for sale.
Another drawback to consider is that HomePath interest rates and closing costs are often slightly higher than FHA loans. Beyond these two downsides, however, there are many benefits to the HomePath program.
First, HomePath Mortgages are available for both occupying home-owners and investors and often only require a down payment of 3% for a primary resident buyer. Another major benefit of this loan is that no mortgage insurance is required. Lastly, Fannie Mae also offers the HomePath Renovation Mortgage that allows for renovations "up to 35% of the as completed value, [but] no more than $35,000."
FHA
The Federal Housing Association (FHA) offers a great program that allows a buyer to purchase Encino homes for sale with a down payment as low as 3.5%!
While the FHA does not technically grant loans, it does insure loans made by private lenders. With less stringent credit requirements than conventional loans, the FHA program is designed to serve those who cannot afford a conventional down payment.
VA
Veterans need to consider the amazing Home Loan program offered by the VA Loan Guaranty Service. For those who qualify, it's possible to get a loan with 0% down payment and no closing costs.
Conventional Mortgage
What many don't realize is that it's possible to get a conventional loan for Encino real estate without a 20% down payment. If the buyer is willing to pay the private mortgage insurance (PMI), it's possible to get a loan with a down payment as low as 5%. A 20% down payment is only required if the buyer wants to avoid PMI.
Ultimately, buying a home comes down to trade-offs. The myth that someone needs a huge down payment to buy a home should not hinder people from pursuing their dreams. There are so many financing options available that nobody should settle for less.
For those who are ready to assess their options, contact Red Blue Realty today for the perfect Encino real estate agent!
Website: RedBlueRealty.com
Email: Contact@redbluerealty.com
Phone Number: 1 - (855) 66-RBREALTY or 1- (855) 667-2732
Get involved with Red Blue Realty on Facebook and Twitter!