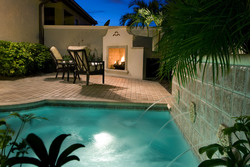 Tell us what fits your lifestyle and we will try to emulate that vision across the board within our own boundaries at Cordoba
Naples, FL (Vocus) September 25, 2009
Encore Development, LLC is pleased to announce Cordoba at Lely Resort taking home five individual CBIA Sand Dollar Awards for 2009. The Sand Dollar Award signifies the highest level of professionalism and excellence in the industry. The awards recognize excellence in building, development, landscape design, interior design, remodeling, commercial design, advertising, marketing and sales. Cordoba at Lely Resort was awarded the Best Logo design, The Best Interactive CD/DVD Presentation, The Best Website http://www.CordobaNaples.com, The Best Green Home and finally the creme de la creme Product Design of the Year, Single Family Model Home $500,000- $699,000.
"We are extremely honored that Cordoba at Lely Resort is recognized by our industry peers as having achieved these lofty results. We believe it shows our level of attention to every detail from its conception through construction and the marketing" said Co-Developer Rick Armalavage.
Located in the heart of the 2009 CBIA Community of the Year, Lely Resort, Cordoba is a private enclave of 50 mission inspired maintenance-free custom homes all within a moments stroll to Lely's three championship golf courses and the award winning Players Club and Spa. The homes offer a light and airy feeling typically found in luxury custom homes. "Tell us what fits your lifestyle and we will try to emulate that vision across the board within our own boundaries at Cordoba," says Co-Developer Mark DiSabato.
The Cordoba theme has been carefully carried throughout the entire development from the detailed monument sign to the impressive columned entry gates and lushly landscaped central park area featuring a three tiered hand carved stone fountain. The combination of the intimate homes and its surrounding environment makes Cordoba at Lely Resort the most unique single family product in Naples, Florida. Please visit our website CordobaNaples.com for more information.
###