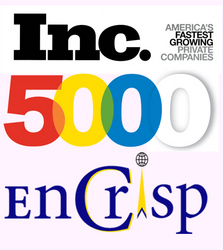 We are extremely pleased with the results already achieved. With all the support from EnCrisp and SAP, we feel we can continue to manage our Enterprise Risks and Security Access issues and are ready for any new challenges. – Susan Holleran, VP Waters
Reston, VA (PRWEB) October 5, 2010
Waters Corporation is a $1.6 billion organization that for more than 50 years has developed innovative analytical technologies that support scientific laboratories in their discoveries, operations, performance and regulatory compliance. In need of a more efficient way to manage IT Governance and overall security related access risk, Waters turned to governance, risk, and compliance (GRC) specialist , EnCrisp, an INC 5000 Award winner and SAP partner specializing in GRC and security design to streamline processes and phase out redundant systems.
With two divisions and operations in 27 countries, Waters needs to manage access risks spanning security, finance, operations, regulatory compliance and access to sensitive information. Waters must also comply with the SOD requirement of the Sarbanes-Oxley (SOX) Act, which enforces appropriate levels of checks and balances for any one person to complete all the steps of a specific business process to avoid fraud and errors.
Benefiting from EnCrisp's long standing specialization in GRC and SAP partnership, Waters leveraged proprietary EnSURE™(Enterprise Solutions Utilization & Risk Elimination) GRC methodology. EnCrisp's ComplianceWeaver™ business rules enable industry vertical driven controls and risk management. EnCrisp brings world-class expertise in SAP integration, security design, testing, corporate training and controls management best practices to the SAP's BusinessObjects GRC platform.
"We are extremely pleased with the results already achieved. With all the support from EnCrisp and SAP, we feel we can continue to manage our Enterprise Risks and Security Access issues and are ready for any new challenges," said Susan Holleran, Vice President, Audit and Risk Management, Waters Corporation.
Some of the key qualities that enabled Waters to succeed and select EnCrisp as its GRC partner amongst all other firms were:

Guaranteed Outcome Assurance and Flexibility of execution amongst tough economic business cycle
Rich Business Rules customization across all industry domains and compliance mandates
Globally respected with thought leadership in ISACA, IIA and other GRC industry organizations
Proven expertise in design of Business-driven GRC software integration architectures with world-Class SAP Application Security Architecture and technical prowess
EnCrisp has been one of the earlier members of the previously known SAP Global Security Alliance and is the only GRC specialist to have been awarded the INC 5000 award for being a specialist and fastest growing private companies in USA bring SAP customers with an end-to-end sustainable and collaborative GRC implementation expertise.
Media Contacts:
Amishi Bhagat, EnCrisp, +1 (703) 424 -7615, EDT
Scott Behles, SAP, +1 (917) 494-2009, EDT
Jeff Shadid, Burson-Marsteller, +1 (214) 224-8419, CDT
About EnCrisp LLC
EnCrisp® is an INC 5000 award recipient, Global Enterprise Application Lifecycle and Governance Risk Compliance (GRC) management solutions leader. EnCrisp makes client Boards and Executives "rest better at night" by easing their risk management worries across the functional and technical business landscape. EnCrisp's CFO/Audit/CIO driven execution have established EnCrisp in the industry as preferred partner for turning around complex GRC and IT solution initiatives. With some of the best global brands trusting EnCrisp for their Governance and Security initiatives, EnCrisp is true global niche specialist. As the only firm specializing in both niche GRC and Application Security markets, EnCrisp excels in designing leading-edge solutions with a "business-driven" risk based approach to improve IT lifecycle, regulatory governance, environmental sustainability, security architecture. With its trademarked EnSURETM methodology and GRCWeaverTM industry vertical driven control automation content, EnCrisp delivers a powerful combination of thousands of best practice control automation rules and content for different industry verticals, system horizontals and IT Governance and Solution Management Lifecycle scenarios. EnCrisp is recognized as a global Microsoft BizSparks start-up member and specialized SAP Solutions provider globally. For more information, visit encrisp.com
About SAP
SAP is the world's leading provider of enterprise business software*. More than 41,200 customers in more than 120 countries run SAP® applications--from distinct solutions addressing the needs of small and midsize enterprises to suite offerings for global organizations. The products and services selected can be combined with implementation and/or quality assurance services to form a service package.
Additional information on the SAP GRC Solutions is available at sap.com/solutions/grc
SAP, SAP NetWeaver, SAP BusinessObjects and other SAP products and services mentioned herein as well as their respective logos are trademarks or registered trademarks of SAP AG in Germany and in several other countries all over the world. All other product and service names mentioned are the trademarks of their respective companies. EnCrisp, EnCURE, ComplianceWeaver are registered trademark of EnCrisp LLC in the United States and certain other countries. All other EnCrisp product names and service names are trademarks or registered trademarks of EnCrisp LLC or EnCrisp LLP in India. All other company and product names are trademarks or registered trademarks of their respective owners. Data contained in this document serve informational purposes only.
Follow EnCrisp on Twitter at @EnCrispGRC and LinkedIn@GRCXchange groups
Follow SAP BusinessObjects on Twitter at @businessobjects and
Follow SAP on Twitter at @sapnews
###