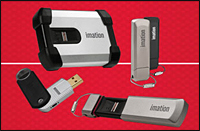 If organizations are not using encryption, a data breach may expose them to costly financial penalties and require disclosure that could be damaging to their reputation.
Brooklyn Park, MN (PRWEB) October 18, 2010
Magnetic Products and Services, Inc. now offers a complete line of secure USB flash drives and external hard drives that provide absolute protection for data at rest. The new Imation Defender Collection includes flash drives (up to 32GB) and external hard drives (up to 500GB) as well as optical media, all specifically designed with top security in mind. These invaluable portable storage devices can be safely used by employees because they are secured with cutting edge technology, whether stolen, lost, or damaged. Previous security risks due to regulatory noncompliance, data loss, or even unauthorized access can become non-issues.
Data breaches are and costly. In 2009, there were 498 data breaches and over 220 million records lost. The average cost per record was $202, and the average cost per breach was $6.6M. These breaches could have been prevented if their data was encrypted. The health care industry is subject to new regulatory requirements including the HITECH ACT, which requires encryption on all data at rest devices.
Health care, financial, insurance, Government, and other industries will be able to avoid costly data breaches, knowing that sensitive information will remain safe and unexposed with these high-level encrypted USB drives. The AES 256-bit hardware with FIPS 140-2 Level 3 is, to date, the only level that has never been compromised. According to Michelle Morey, Vice President of Magnetic Products and Services, "If organizations are not using encryption, a data breach may expose them to costly financial penalties and require disclosure that could be damaging to their reputation."
Defender's central management software allows one administrator to easily control usage and set policies for secure USB devices, another line of control and protection. This technology allows IT to manage devices remotely. Rather than restrict USB ports as many companies have felt pressured to do, this system allows controlled and protected usage, the best of both worlds.
The Imation Defender Collection also sets itself apart from the competition by including a biometric USB drive in which the identification required for usage is done through a registered fingerprint. Authentication may or may not include or be limited to a strong password as well. With one out of one three help desk calls requesting password resets, one less password to remember is a bonus for everyone.
Optional malware protection includes McAfee anti-virus software to prevent harmful viruses, trojans and worms from infecting the systems. Even the physical security of these USB drives and portable storage devices is addressed through water-proof, dust-proof, and tamper-proof casings.
About Magnetic Products and Services, Inc.
Magnetic Products and Services, Inc. has been a leader in the computer back-up industry a since 1989. Consistently ranking in the top five in its field nationally, the company services thousands of customers in the United States and Canada. This WBENC certified woman-owned business also offers a media buyback program, storage racks, carrying cases and toner. With a reputation for expertise, experience, and aggressive prices, MPS's is pleased to offer the Imation Defender Collection for protection of companies' mobile data. For more information, visit http://www.mpsinc.org.
###