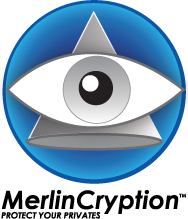 No PKI, no central key deposit, no protocol, and no external validation are required with the CryptoFile™ solution.
Austin, Texas (PRWEB) November 04, 2011
MerlinCryption introduces the CryptoFile™, a first-ever Key-in-a-File technique that drives down cost and labor of key production to a fraction of PKI cost, while fortifying data protection.
Businesses spend between $47 and $598 for the creation, distribution, and maintenance of each encryption key in use, reports Aberdeen Research. Today's skyrocketing key costs can be reduced to a fraction of this amount with MerlinCryption's new user-initiated Key-in-a-File approach, called the CryptoFile™.
The simplified key management solution avoids complex Public Key Infrastructure (PKI) obstacles and circumvents the need for a central key deposit or protocol. Validation is intrinsic to the method, alleviating need for external validation.
MerlinCryption's proprietary source code uses variable keys that scale in size from 2000 bits up to 2 GBs in length. The discrete keys can be initiated individually or generated in mass quantity.
Strategic use of CryptoFiles™ leverages role-based access rights for easier enterprise management. Flexible options in the software accommodate clients, vendors, and end users who have contrasting levels of sophistication or need-to-know status.
MerlinCryption software provides out-of-the-box functionality, with easy installation to become quickly operational and secure. "Even complex business structures can be 'up and running' with minimal customization." reports Paul "Prem" Sobel, Founding Engineer and CTO, "Organizations realize immediate and significant savings with greatly enhanced productivity levels."
While security professionals appreciate the value of eliminating PKI for a simplified key system, the compelling reason for utilizing the MerlinCryption solution is to gain superior encryption security.
The unpublished algorithm is not based on mathematical technique and not subject to normal statistical analysis. Encryption results are always different, even when using the same data input, same key, and/or same password parameters. MerlinCryption's innovative algorithm, combined with the sheer size of scalable CryptoFile™ keys, exponentially obstructs detection and defeats criminal attack.
About MerlinCryption LLC
A software technology company in Austin, Texas, MerlinCryption LLC delivers invincible data-at-rest, data-in-motion, and cloud solutions that combine innovative encryption with surprising affordability and ease. The pioneering proprietary algorithm and unprecedented CryptoFile™ approach protects home and enterprise file storage and transfer, email, instant messaging, broadcast, password, and data-in-use activity. MerlinCryption's breakthrough encryption architecture is changing the way the world protects data.
# # #