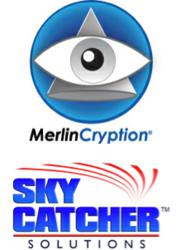 The demand for new solutions against growing cybercrime is tremendous. The MerlinCryption and Sky Catcher alliance closes the security gap.
Austin, TX (PRWEB) October 11, 2012
Blending state-of-the-art technology and pioneering expertise, Sky Catcher Solutions and MerlinCryption work together to provide breakthrough solutions in data protection, authentication, and mobile security. The resulting cyber security technology provides the innovative solutions required to protect critical infrastructures and meet the current IT security needs of both private and public industries.
"We are delighted to work with the highly qualified professionals at MerlinCryption", says Don Thompson, CEO Sky Catcher Solutions. "The strategic relationship between our companies establishes an unrivaled ability to address current cyber security issues and forms a solid foundation to create additional next-generation solutions."
Sky Catcher Solutions, a system integrator, has developed an enterprise suite of solutions for highly secure data, voice, and live streaming video.
Sky Catcher's Portable Systems Device™ (PSD™) provides multi-factor authentication, secure Internet access, and storage options, which can allow for a read-only partition. The PSD™ is remote- enterprise manageable; allowing granular manageability such as software uploads or access permissions, changed with a remote push, affective immediately upon connecting the device to the Internet or sent in mid-session. Likewise, the device can be deactivated remotely, in addition to being tamper resistant.
The PSD™ has the capability to house multiple operating systems on a single device (Linux/Windows/Mac). It is incredibly user-friendly, breach and malware resistant, self-auditing, and can be used on any host computer without leaving a footprint and without risk of commingling of information between the device and the host computer.
The device has been designed to securely utilize a USB port to provide a flexible and scalable hardware IT security platform. This PSD™ is currently FIPS 140-2 Level 3 and Common Criteria Certification Recognition Arrangement (CCRA) certified. This is the only device of its kind to hold this international certification.
MerlinCryption solves two major security shortcomings in today's encryption, which include the weakness of short static encryption keys and the risk of key transfer.
The cryptosystem is built on Anti-Statistical Block Encryption (ASBE), which utilizes variable key length. Each key scales in size between 2008 bits and 2 GB. Additionally, the encryption engine allows scalable passwords up to 64 KB.
Key and password transfer between endpoints is unnecessary. MerlinCryption's patent pending random data generator outputs keys and passwords that are 'generated-destroyed-recreated' on demand.
The ASBE algorithm is not subject to attack models and methods of Cryptanalysis. Every authentication and encrypted transmission is different, as the algorithm produces different cyphertext with varying length, even when repeating the same plaintext, key, and password input.
"The unified force of Sky Catcher Solutions and MerlinCryption benefits all industries with critically needed security tools," says Brandon Brown, COO MerlinCryption. "The partnership not only solves immediate security issues, but also leverages the ability to close other security gaps in emerging trends."
About Sky Catcher Solutions
Sky Catcher Solutions is a systems integrator specializing in the design and deployment of cyber secure solutions for a variety of industries that have a need for secure networks, mobile security, and authentication services. Solutions include advanced proprietary technology to ensure the protection of sensitive information, data, voice transmissions, and streaming video over wired and wireless (LAN/WAN) networks. http://www.SkyCatcher.com
About MerlinCryption LLC
The Smart-World's Smart-Encryption™ software company in Austin TX, MerlinCryption develops encryption and authentication solutions that protect against counterfeiting, cloning, software compromise, physical machine compromise, and man-in-the-middle attack, designed specifically for the embedded and M2M (machine-to-machine) market.
The unprecedented security platform protects integrity of data-at-rest, data-in-motion, data-in-use, and data-in-change as it is created, viewed, edited, shared, stored, and moved across communications channels and through the Cloud. The encryption is NSA reviewed, BIS approved for export, and OFAC compliant. The cryptosystem enables compliance with FDA, HIPAA, and HITECH. http://www.MerlinCryption.com.