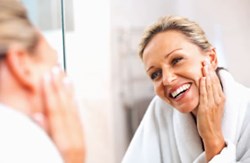 the Renewing Eye Cream eliminates puffiness, crow's feet, and dark under-eye circles.
Miami, FL (PRWEB) December 30, 2012
TheBeautyPlace.com, an online store of leading skin care and hair care from around the world, at discounted prices, announces their end of the year skin care sale. Leading brands for the treatment of acne, dark spots, fine lines and wrinkles and for the overall care of healthy skin care featured.
For the treatment of acne, the Acne Complex 30 Day Kit includes an antibacterial cleanser, a deep pore cleanser treatment, a skin perfecting lotion, and an acne spot treatment. Over 90% of clients have experienced a significant reduction of blemishes in less than 3 weeks of use. Clients state the kit does not dry out skin, instead the acne-fighting ingredients work together to cleanse, treat, and moisturize acne-riddled skin smooth again.
For dark under-eye circles, the Vitamin C Eye Serum, firms eye area with antioxidants and vitamins. The eye serum is non-oily and absorbs easily into skin. Its nourishing ingredients brighten dull-looking eyes, reduce the appearance of discolorations, and encourages collagen production.
For puffiness, the Renewing Eye Cream treats and prevents eye area skin damage. Clients have stated the eye treatment has helped in eliminating puffiness, crow's feet, and dark under-eye circles. It contains moisturizers that hydrate skin making it look smooth and supple and reduces the appearance of sagging skin.
For the care of mature and prematurely aging skin, the Smart Starter Kit is a month's supply of anti-aging products. It includes an exfoliating cleanser, a toner, anti-aging face masque, anti-aging SPF 30 moisturizer, an eye area treatment, and a collagen regenerator. The kit is travel-friendly and focuses on reducing wrinkles and achieving soft skin.
TheBeautyPlace.com is a leading online company of "top brands at affordable prices." From skin care to hair care and everything beauty, TheBeautyPlace.com strives to offer clients and prospective clients excellent customer service and fast shipping of beauty products right to their door.
Follow and Like TheBeautyPlace.com:
On Pinterest: pinterest.com/thebeautyplace/
On Twitter: @TheBeautyPlace
On Facebook: Facebook.com/pages/TheBeautyPlacecom/125435188536?ref=ts
TheBeautyPlace.com Blog: blog.thebeautyplace.com
Jennifer Ramirez
TheBeautyPlace.com
877-392-8827