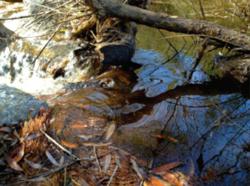 The landscape gives up its secrets willingly, but quietly.
Vail, Colorado (PRWEB) December 13, 2012
Constance Woodberry, leader of Elevate LLC and originator of the Elevate: Creating and Sustaining Special Places Symposium, which was recently held in Vail, Colorado, is spearheading a grass roots approach to finding workable, evidence based solutions, to the complex problems, which seem to be so unsolvable at the moment.
As part of their commitment to a systematic and pragmatic approach to problem solving Ms. Woodberry and Elevate asked Mr. Peters Andrews, OAM, to take part in the Elevate discussions. "We invited Mr. Andrews because he embodies the solution finders of today. They are people who are keen observers, able to apply knowledge and experience and who as importantly, are able to take the slings and arrows, which inevitably materialize when commonly held beliefs are challenged by clear-cut evidence. " Ms. Woodberry explained.
"Mr. Andrews has spent 30 years as a horse breeder and pastoralist in Australia working out how best to work with the natural sequences apparent in the landscape, in order to restore the land back to health. His methods, Natural Sequence Farming (NSF) and Natural Sequence Land Care (NSLC), have been substantiated by the productivity of the land on which they are applied and the health of the animals and plants living on that land. While the proof is in the obvious visible differences between NSF properties, in contrast to adjoining properties, the methods have also been verified by a succession of leading international scientists."
Mr. Andrews has approached his methods as a practical farmer as well as a systematic scientist. His attention to the stories the landscape is telling us is evident in his explanations, "Each of the various shapes within any landscape tells a story, so by observing the various shapes in the landscape and analyzing them it is possible to work out what is happening below and what needs to done to repair the surface. The landscape gives up its secrets willingly, but quietly. Now the whisper has turned into a shout and the repaired land under NSF is demonstrating all the evidence we need."
Ms. Woodberry is adamant when she states that, "Many of the solutions to some of the most intractable problems we face with respect to climate change, environmental damage and ecosystem viability are available to us now. A perfect example is the work done by Peter Andrews, who has developed his Natural Sequence Farming and Natural Sequence Land Care Methods with such extraordinary success. " She goes on to say that, " it is ironic, to say the least, that policy makers are so willing to stand fully behind unproven reductionist theory and failed land management experiments yet find it so hard to believe, let alone support, such a simple and elegant, as well as immensely scalable, solution as that provided by Mr. Andrews and NSF/NSLC – with people like Mr. Andrews there is no need to believe that it is the end of the world – in fact we are entering a new era of Restoration."
Elevate LLC and Regional Breakthroughs Australia, along with Mr. Andrews, are moving forward with planning for a number of projects in Australia and the USA, which will demonstrate the potential of NSLC for wetland reclamation, mining affected land restoration, drought proofing valuable range lands and management of other degraded landscapes.
For more information about Elevate and Peter Andrews contact: Constance Woodberry by calling 970 471 6455 or at constance(at)elevatesymposium(dot)com for interviews or further information. More information is available on the Elevate website at http://www.elevatesymposium.com.