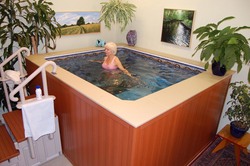 "The modular design of our pools makes customization much easier...", Justin Tillighast, Business Development Manager.
Aston, PA (PRWEB) March 3, 2011
Endless Pools Swimming Machines has been awarded a General Services Administration (GSA) Federal Supply Schedule Contract to supply custom exercise and therapy swimming pools to federal agencies under Schedule 78.
Endless Pools, Inc. provides a comprehensive line of swimming pools for virtually any application or location. While the costs for indoor pool installations continue to escalate for government recreation centers and military facilities, Endless Pools offers products that are affordable and easy to install in as little as three days. "The modular design of our pools makes customization much easier, we think Agencies will appreciate this alternative while still meeting their objectives," says Justin Tillighast, Business Development Manager.
Endless Pools has a long history of working with Government agencies, most recently providing pools to the US Navy and troops stationed abroad. In the Summer of 2007 Endless Pools sent a unit to the 1st Brigade Combat Team, stationed at Camp Taji, an Army base just outside Iraq. The Endless Pool has been utilized by many of the 3600 soldiers on base; needs ranging from aquatic therapy and rehabilitation for muscular skeletal injuries, to asthma, and chronic back pain.
For over 20 years, Endless Pools has sold more than 16,000 pools to people of all ages and athletic abilities from octogenarians to Olympians for swimming, exercise, therapy and weight loss. The broad, deep, adjustable current produced by our custom 16" propeller creates the smoothest, quietest current available. Manufactured in the US, our products meet the highest standards for safety, durability and quality. For more information visit Endless Pools Swimming Machines website or visit Endless Pools on Facebook
As the federal government's workplace solutions provider, the U.S. General Services Administration works to foster an effective, sustainable and transparent government for the American people. GSA's expertise in government workplace solutions include:
Effective management of government assets including more than 9,600 government-owned or leased buildings and 210,000 vehicles in the federal fleet, and preservation of historic federal properties;
Leveraging the government's buying power through responsible acquisition of products and services making up more than 11 percent of the government's total procurement dollars; Providing innovative technology solutions to enhance government efficiency and increase citizen engagement; and, Promoting responsible use of federal resources through development of government-wide policies ranging from federal travel to property and management practices.
###