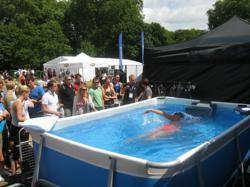 The Live Site program is a perfect way to turn spectators into active participants...
London, UK (PRWEB) August 02, 2011
Triathlon is breaking new ground with an innovative and exciting concept which the International Triathlon Union (ITU) launched today. Visitors to Triathlon Live Sites in six cities around the UK on August 6 and 7 will experience live triathlon in a format that has never been seen before.
Each city center location will be transformed into a mini sporting arena where everyone can be part of the triathlon action with an Endless Pool®, treadmills and stationary bikes bringing the sport to life. BBC coverage from the Dextro Energy Triathlon ITU World Championship Series London in Hyde Park will be simultaneously screened live on big screens right in the heart of each city.
The Triathlon Live Sites concept is unique and the first of its kind to be trialled before an Olympic Games. The Live Sites were organized in partnership between the International Triathlon Union, the British Triathlon Federation (BTF) and the BBC Big Screens network around the UK. Partners Endless Pools are providing the unique stationary swimming pools where athletes can swim at race pace in an area no bigger than a family car. Groups of three competitors will have 10 minutes to swim, bike & run as far as they can, distances and times are then recorded and compared to other groups.
As well as taking part in novice events, there will be an opportunity for spectators to cheer on UK and international athletes via big screens as they race to qualify for the London 2012 Olympic Games This is a flavor of what to expect during the London 2012 Olympic Games next summer, where there will be 21 screens around the UK during Games time.
Triathlon Live Sites will be coming to Manchester, Birmingham, Plymouth, Derby, Cardiff and Portsmouth. Birmingham's own Jodie Stimpson will be racing in the women's elite race on Saturday giving fans the perfect opportunity to come together to cheer on some local talent.
ITU President and IOC Member Marisol Casado said: "The Triathlon Live Sites are a great example of the growing popularity of triathlon in the UK and globally. Triathlon is a young and innovative sport and we are proud to lead the way with this unique collaboration between ITU and BTF."
Endless Pools Marketing Director Endless Pools said: "The Live Site program is a perfect way to turn spectators into active participants, introducing the sport of Triathlon to a much larger audience. Endless Pools is proud to play an integral role in making this new concept a success."
Visit Endless Pools and the ITU website or follow Endless Pools, Inc. on Facebook.
Endless Pools, Inc., headquartered in Aston, PA, a suburb of Philadelphia, was founded in 1988 by James Murdock to manufacture and sell counter-current swimming pools for residential and commercial use. Over the last twenty-two years, more than 16,000 Endless Pools have been sold and installed in the United States and worldwide.
# # #