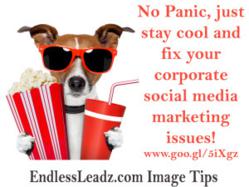 Corporate social media marketing is about establishing a meaningful connection with your clients and potential customers, not speaking ill of your business rivals—or of anyone...
Baltimore, Maryland (PRWEB) January 16, 2013
Corporate social media marketing is, by its very definition, ever-evolving; social networks themselves are anything but static, and the trends and best practices that inform social media marketing require constant adaptation. A recent article from Grazitti Interactive highlights six of the biggest "social media marketing lessons" learned in 2012. The six lessons have won the attention of Endless Leadz, a Baltimore-based digital marketing agency. Endless Leadz has responded to the article with a new press statement, commenting on where corporate social media marketing has been—and where it is headed in the months to come.
The first lesson mentioned in the Grazitti Interactive article is that social marketing is not about selling so much as "reaching out" and connecting with consumers. "This gets at the heart of the 'content marketing' emphases that have arisen in recent months," comments Zsolt Bicskey, owner of Endless Leadz. "As the article rightly points out, social networks can be used to showcase the human side of a business or brand—which creates the kind of rapport with consumers that can lead to fruitful relationships in the long run. Ultimately, this is more beneficial than aiming for outright promotion."
Grazitti goes on to point out the importance of proper planning, citing a disastrous McDonald's Twitter campaign that ultimately resulted in a deluge of negative customer reviews. "Corporate social media marketing is not something to be done casually or without proper foresight," agrees Bicskey.
The article then offers guidance to businesses and brands seeking to practice "newsjacking"— which essentially means capitalizing on an existing news story or headline to make waves for a business or brand. "The article rightly points out that, while newsjacking is not in itself a bad or destructive habit, it can be done very badly when empathy is taken out of the equation," remarks Bicskey. "For example, trying to leverage a tragedy, like Hurricane Sandy, is obviously going to undo any goodwill that your brand has engendered over the years."
Among the remaining social media lessons learned in 2012 are the importance of proofreading and of instituting a company-wide social media policy. Of particular note is the article's point about the need for businesses to refrain from badmouthing their competitors. "Corporate social media marketing is about establishing a meaningful connection with your clients and potential customers, not speaking ill of your business rivals—or of anyone, really," comments Bicskey. "Negative posts are major turn-offs to clients, and will only prove counter-productive for businesses and brands."
Bicskey concludes his press statement by noting that Endless Leadz offers customized corporate social media marketing plans for businesses in Baltimore and beyond—and that the company is nothing if not zealous about keeping up with the latest and greatest social marketing practices.
ABOUT:
Endless Leadz provides marketing help to small businesses, corporate clients and publishers. It specializes in generating online buzz and lead generation through marketing services and search engine strategies. To find out what Endless Leadz can do for you, visit http://www.EndlessLeadz.com.
Endless Leadz can be found on Facebook at http://www.Facebook.com/EndlessLeadz and on Twitter at http://www.Twitter.com/EndlessLeadz. Visit Endless Leadz YouTube channel at http://www.YouTube.com/EndlessLeadz.